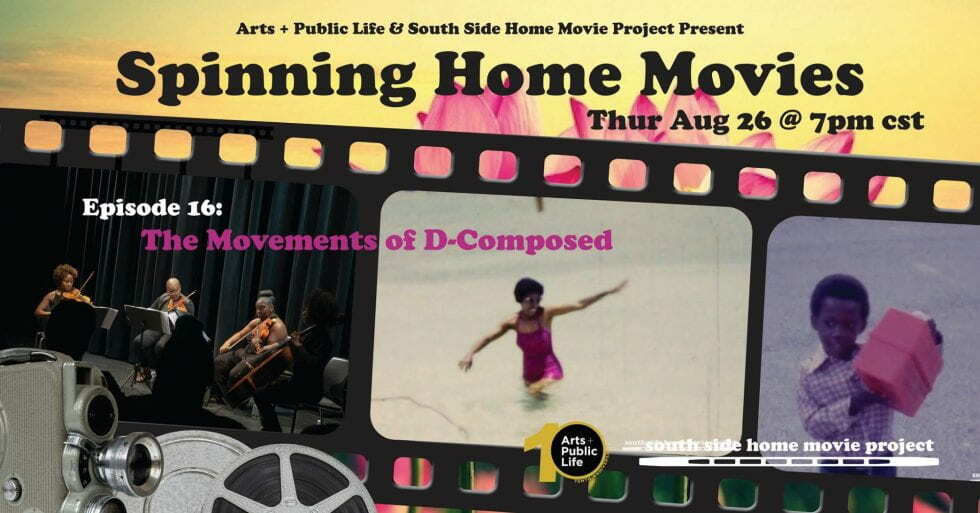 Through the course of a 6-month collaboration with SSHMP, D-Composed ensemble members poured over the home movie collections, making connections with their own lives and family histories, and emerged with four central themes: Autonomy, Acceptance, Mourning and Joy. Building on the legacy of Black storytelling, each short film, or "movement," features a set of film clips carefully selected by the ensemble member around her chosen theme, and soundtracked with a new performance by the D-Composed ensemble.

This episode of Spinning Home Movies features material from the Ellis McClelland, Jean Patton, Lynette Frazier, Gustina Steele, Leroy Roberson, Daavid D and Margaret T. Pitts, Dr. George Reed Jr., Phillip Maxwell Sr., Charles Merrifield, Nicholas Osborn, Dr. Homer Nash Jr., Alsup Smith Family and Roberts Family Collections.
The following week, on Sep 2 at 7pm, join D-Composed ensemble members and the South Side Home Movie Project team for an in-depth conversation about this unique artist/archive collaboration. Details coming soon!
_______
The creative collaboration between D-Composed, South Side Home Movie Project and Arts + Public Life was supported by a generous grant from The Franke Institute for the Humanities at the University of Chicago.

Spinning Home Movies is produced and presented by Arts + Public Life (APL) and South Side Home Movie Project (SSHMP), with support from the University of Chicago Women's Board.

Movement 1: "Autonomy" by Kori Coleman (Founder and Executive Director)
Drawing on scenes from the Lynnette Frazier and Jean Patton Collections – "unbothered" women traveling through vibrant landscapes around the world, filming themselves and other women in a range of locales, appearing adventurous, independent and free – this mix oscillates between images of autonomous Black women and free-flowing natural spaces, roughly charting the chronology of a life from youth to old age.
Featuring: Solange's "Don't Touch My Hair" arranged by Yelley Taylor
Movement 2: "What's for Lunch?" by Tahirah Whittington (Cellist and Composer)

Inspired by the idea of the lunch counter as both a cultural signifier (think SNCC sit-ins) and a metaphor for acceptance, Tahirah gathered scenes of Black folks eating in peace, not the big celebratory meals that accompany holidays, but the more ordinary, everyday food that plays such a central role in Black life. Think corn on the cob with the kids at the 1979 ChicagoFest, and a kindergartner swinging his red lunchbox on the first day of school.
Featuring: "Transitions – Family" (Cello only and Quartet Mix) and "Transitions – Love" composed by Tahirah Whittington

Movement 3: "Ray" by Yelley Taylor (Artistic Director and Violist)


Skies melt into sunsets, folks gather together to mark passages, grieving merges into celebration and back again like a sigh; this mix evokes Black cultural practices that attend death and collective grief, and the ways these moments blur the line between mourning and celebration of loved ones who have passed on. Inspired by the loss of her Aunt Raylette, this movement features the first original piece composed by Taylor, for cello, based on the musical spelling of her aunt's name.

Featuring: "Mourning Song" composed by Yelley Taylor

Movement 4: "Joy" by Caitlin Edwards (Violinist)
Beautiful Black faces, from every era and age, light up the screen with their unique expressions of joy. Beginning with a montage of home movie "selfies" and a tribute to family elders, this nostalgic mix of feel-good music and infectious smiles traces a lifetime in reverse, culminating in a celebration of simple childhood joy across the decades.
Featuring: "Optimistic," "I Want You Back," "Wonderful World," and "Feel Like Makin' Love"