South Side Home Movie Project
The Archive
SSHMP's Digital Archive is a globally accessible online portal and searchable catalog of our entire collection of over 700 digitized home movies shot by residents of Chicago's South Side neighborhoods from 1929-1982.
SPOTLIGHT: ChicagoFest, 1979
Sound on! In this clip from the Alsup Smith Family Collection, family members spend a day at ChicagoFest in August 1979, culminating in a performance by Gloria Gaynor. Kevin Alsup narrates the scene: "Everybody's together today, and we're at ChicagoFest and everyone's having a good time, I'm glad we could make the trip, we're all on board, and ready to take a sail. We're shipping off, we're gonna check out this show, and get low." Check out the Alsup Smith Family Collection, 17 films shot by Vanessa Alsup and her husband Kevin around their Englewood home and destinations across the city, from 1970-1980.
explore the Alsup Smith Family Collection
Visit the Archive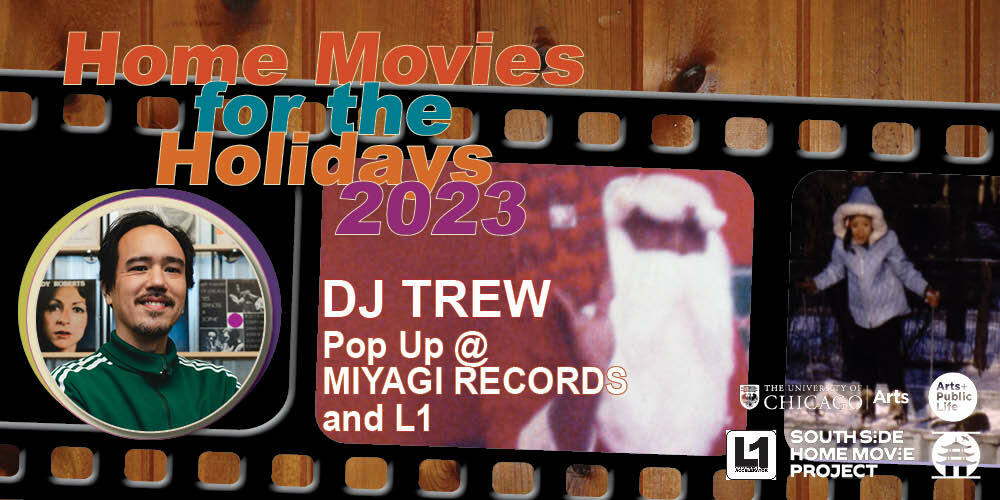 Creative Reuse
We invite community members to reuse our collections in creative ways, and to bring a contemporary lens to the scenes and histories they represent. Activating archival films brings them back into the public sphere and to their original intent, as memories captured to be viewed, shared, cherished and re-interpreted.
SPOTLIGHT: Spinning Home Movies
Launched as an effort to connect with our communities virtually in spring 2020, the ongoing Spinning Home Movies series has emerged as a new paradigm for meaningful artist/archive partnerships and for robust community engagement. Each episode features a 20-30 minute set of home movie footage, curated and sound-tracked by Chicago DJs, musicians and performing artists, followed by a live discussion, "The Rewind," where the production team, guest artists and film donors dig deeper into the episode's themes. Find complete details, artist info, featured collections and more for each episode at the link below.
See all spinning home movies episodes
Creative Reuse + Licensing
Home Movie Community
Home movie donors are the heart of the Project. New donors join a community of families who have entrusted us with their historic records, and who actively participate in the life of the archive. We honor and celebrate their stories, ensuring that donors' voices continue to shape our understanding of the histories we hold.
SPOTLIGHT:
Ellis and Susan McClelland Oral History Recording
Home movie donors are invited to record an oral history with family members who recall the stories behind the films. On February 17, 2008, Susan McClelland sat down with her father Ellis McClelland and SSHMP director Jacqueline Stewart to record an interview about the McClelland family's life and home movies. Watch the interview here, and click below to visit their Collection.
explore the Ellis McClelland Collection
February 17, 2008: Oral history interview with Susan and Ellis McClelland, conducted by SSHMP director Jacqueline Stewart.
Research and Education
Home movies provide a unique visual record that enriches our understanding of culture, history, and aesthetics. Through our research practices and educational partnerships, we hope to study, describe and share this unique resource with new audiences and new generations.
SPOTLIGHT: Teen Arts Council Collaboration
High school students in APL's Teen Arts Council explored SSHMP's digital archive to learn about preserving and archiving South Side Chicago history. The teens created video collages connecting moments in time across families through everyday events, and video essays highlighting home movie moments in imaginative new ways. Watch "The History of Vacations" by Aranya A., and read more about this project on the Research & Education page.
Explore Research & Education Opportunities