Chicago Archive Collective Reuse Competition Awards Night
Jun. 14, 2021
7:00pm - 8:00pm CDT
RSVP
View All Events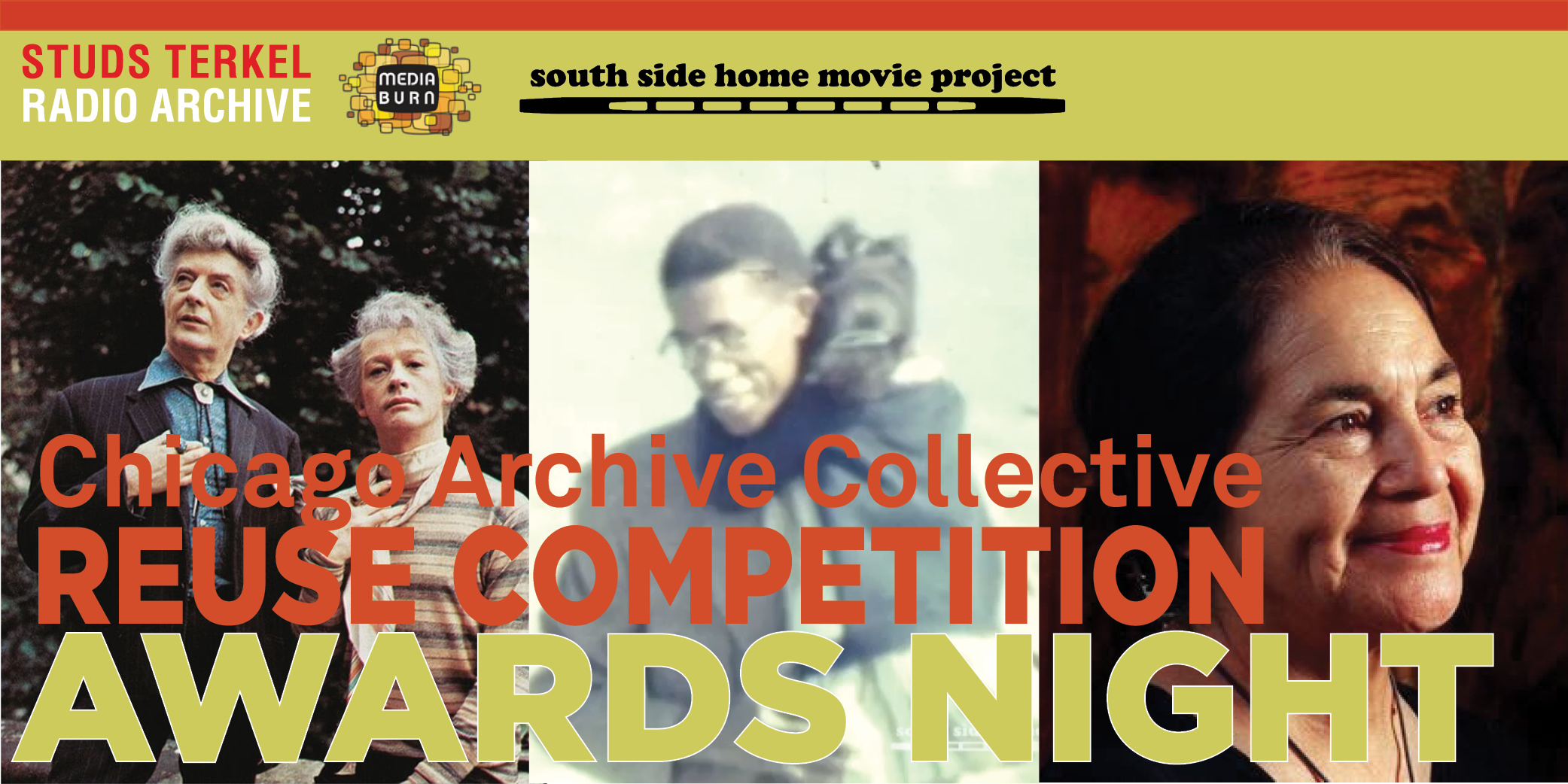 Click here to join us via Zoom
Welcome to Awards Night!
At our kickoff event, program managers from each archive gave a brief introduction to our archives and the available collections, and discussed why archives matter, what archival reuse is, and what sort of possibilities you could do in your own project. All the details are here.
We'll hear from the panel of judges that viewed each submission, we'll watch the winning pieces, and award prizes to winners live. Please join us to cheer for all the artists who activated archival material in innovative, surprising and inspired ways.
Background on the Competition:
Three Chicago archives – the Studs Terkel Radio Archive, South Side Home Movie Project, and Media Burn Video Archive – collected a subset of programs from our vaults to make available on a limited time, project specialized basis for anyone interested in this competition. Participants downloaded the programs from our directory and created their own absolutely original, reuse project.
Meet the artists and their submissions:
Jocelyn Arem
"GROW CREATIVE: Arts, Archives & Food Justice Activism"

A conversation between artist/activist Path P and artist/archival storytelling producer Jocelyn Arem on the intersection between art, archives and the importance of growing awareness around food justice.
Simon-Olivier Gagnon
"From Chicago to elsewhere"

A dive into the archives of Studs Terkel. I attempt to trace the course of this archival reuse and oral history project to invite other institutions to do the same.
Elizabeth Myles
"Back to You"

Using clips from the South Side Home Movie Project's McClelland Collection, "Back to You" takes inspiration from the timelessness and playfulness of childhood– finding awe and love in every memory.
Mac Rescorl
"This Personal Feeling"

A video art project about how your perception of "home" evolves as you grow older. It celebrates the city of Chicago as home.