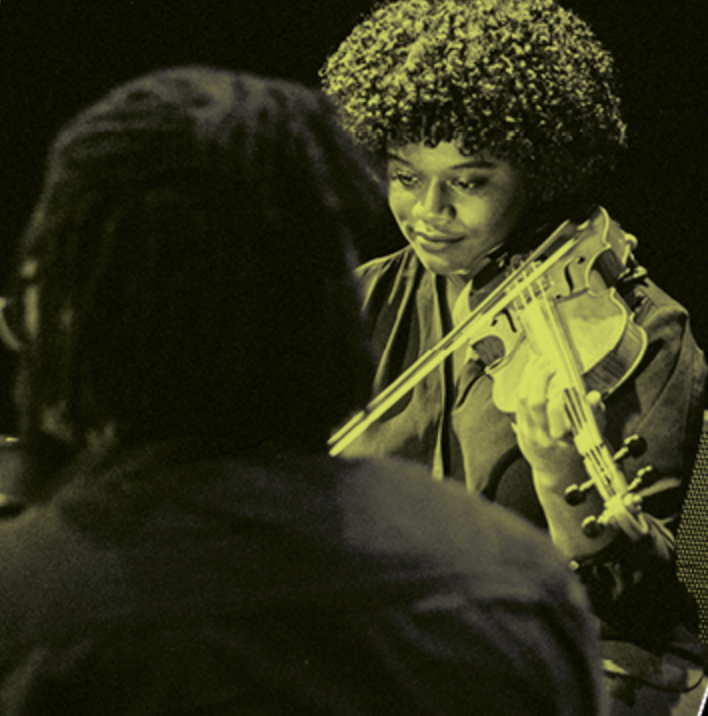 D-Composition: Love Is… uses the music of Black composers to breathe new life into poetry and the written word, featuring audio and visual vignettes of footage from the South Side Home Movie Project. The performance features the D-Composed string quartet with poetry and storytelling by Shanta Nurullah, Jamila Woods, avery r. young, Krista Franklin, Raych Jackson and Davon Clark and compositions by Sharon Udoh, Florence Price, Jessie Montgomery, Carlos Simon and Ahmed Al Abaca.

Selected home movie clips courtesy of the South Side Home Movie Project's Ellis McClelland, Jean Patton, Lynette Frazier and Philip Maxwell Sr. Collections.
D-Composed string quartet:
Caitlin Edwards (violin)
Wilfred Farquharson (viola)
Khelsey Zarraga (violin)
Tahirah Whittington (cello)
About D-Composed
Historians of art and culture may not currently take into full account that Black culture and creativity is a part of every musical institution's foundation that we currently see today.

D-Composed, a Black chamber music collective, exists to ensure that we never forget it.

Started in 2017 and led by their mission to uplift and empower society through the music of Black composers, this Chicago-based creative incubator acts as a bridge between the past and present to the future of representation, music-centered experiences and the communal power of Black composers and their impact.

As the only all-Black ensemble and the only ensemble that focuses exclusively on the works of Black composers in the city of Chicago, D-Composed partners with institutions that have a proven commitment to communities of color. They made history as the first classical music ensemble for Today at Apple on Michigan Ave and have collaborated with The Rebuild Foundation, MCA Chicago, Arts & Public Life with the University of Chicago and many more, including The Ravinia Festival, the oldest outdoor music festival in the United States.

For more information about D-Composed and a full version of their mission statement visit their website.
Artist Links: www.dcomposed.com//@dcomposedchicago