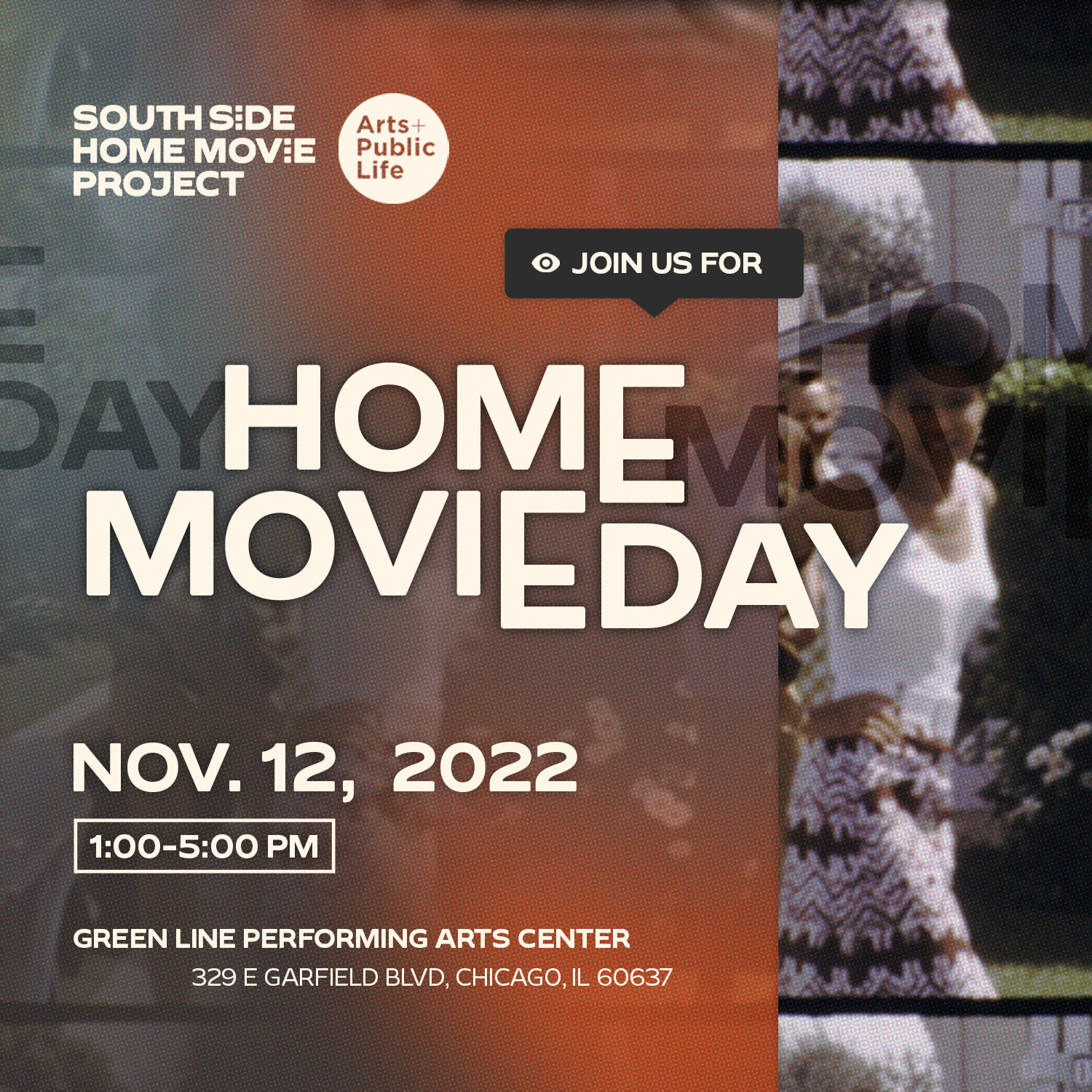 A day-long celebration of the South Side Home Movie community! Families who recently joined the archive will share their home movies publicly for the first time - join us to welcome them and view never before seen footage of South Side life in the 1940s-60s. Plus, try out our new interactive community cataloging tools by adding your own tags and comments to the films, talk to an archivist on-site about preserving and donating your family films, and sign up for a family portrait at our pop-up photo studio hosted by photographer Seed Lynn. Plus an all-vinyl set with DJ Raven Wright, new t-shirts and buttons, food and drink - FREE.
New Collections: Watch never-before-seen home movie footage of the South Side, and welcome the new families who recently donated their family films! SSHMP is honored to welcome these families and their new (or newly expanded) home movie collections to our community:
Ross and Elizabeth Harano (Charles "Chuck" Mayewaki Collection)
Rob and Erica Walker (Roberts Family Collection)
Harriette Moody (Buford Family Collection)
Tyra Taylor (James E. Taylor Collection)
Tracye Matthews (Sylvester Matthews Collection)
Susan Ellis (Alphonse and Nancie Teer Ellis Collection)
Lora Branch (Lora Branch Collection)
Candice Frazier (Burt Ramos Family Collection)
Rachel Lindsey & Zandra Stewart (Ramon Williams Collection & Herman and Hazel Washington Collection)
Pop-up Portrait Studio: Gather up the family for a unique family portrait at our pop-up photo studio hosted by photographer Seed Lynn. In the tradition of Black family portraiture, Seed will work to capture an image of your family that you can frame, treasure and pass on for generations to come. The free photo sessions will take place throughout the day - sign up for your slot here.
Community Cataloging Tools: Be among the first to get your hands on our new Community Tagging Tools, which let you add your own memories to the home movie database and identify the people, places and events you recognize. Use our iPads on-site to try out this custom crowd-sourcing interface so that your stories become part of SSHMP's virtual archive.
Home Movie Drop Off: Got some old film reels in a basement or box? Bring them with you, and talk to an archivist on-site about options for preserving, digitizing and donating your family films for generations to come.

Home Movie Day is an annual international celebration taking place at archives and libraries around the world, providing an opportunity for individuals and families to see and share their own home movies with an audience of their community, and to see their neighbors' in turn.
About the Artists
Culture worker, imagist, and digital storyteller, Seed Lynn submits listening as a liberatory practice. Whether sensually, technically, or artfully applied, Lynn greets the lens as an altered state through which listening and witnessing make voice meaningful. This listening invades his work, frames subjects with grace and honesty, and in turn, shapes spaces where stories find students. Lynn's own studies concern how we remember ourselves, how that memory is imaged, and how remembrance itself, in the face of an oppressor, is a cathartic and radical act of protest.
DJ Raven Wright's style includes selections that'll make you feel warm and want to smile. She plays an eclectic mix of jazz, soul, r&b, and disco. An enthusiast of music and dance, she curates the monthly dance party, Bricktown Sound at Hungry Brain in Chicago. Bricktown Sound is a no frills dance party with incredible DJs spinning vinyl from the past thrown in a funky, low-lit bar.