Home Movies for the Holidays: Opening Reception
Dec. 01, 2023
5:30pm - 8:30pm CDT
View All Events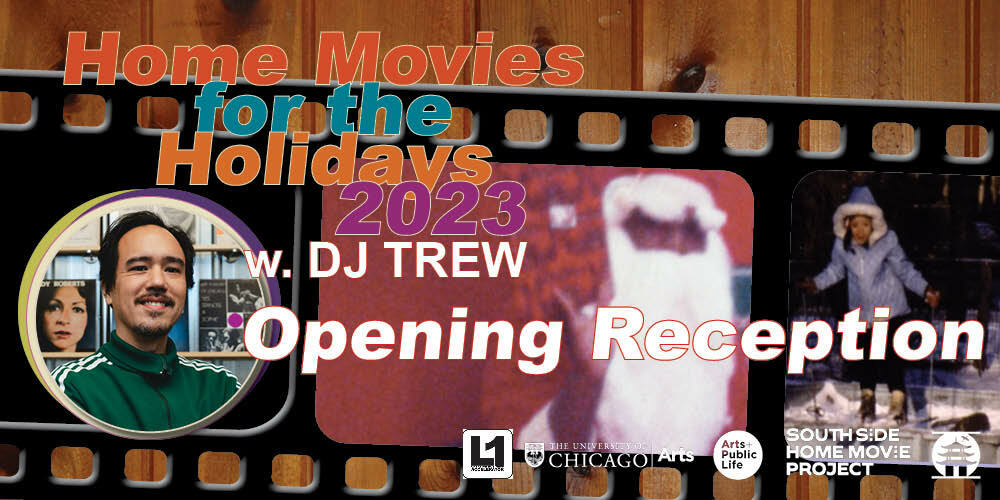 Set off on a one-of-a-kind tour through decades of South Side merry-making with favorite holiday home movies from the South Side Home Movie Project Archive, sound-tracked with a new score by DJ TREW that will warm up those wintry days.

Swing by the L1 Retail Store and Miyagi Records to watch the home movies from the sidewalk, and step inside to pick up the soundtrack too. Join us on December 1, 5:30-8:30pm at Miyagi Records, for a Home Movies for the Holidays Opening Reception, with drinks, snacks and sample items from L1. L1 will be open until 7pm for holiday shopping.
Gather 'round! In his new mix entitled "Cold, Cool, Outta Sight," DJ TREW attempts to capture the dichotomy of the winter experience - a barren, cold and peaceful landscape countered by overflowing, warm, and excitable humans - as well as the moments of anticipation, connection, and overall whimsy we find during the holidays.
DJ TREW (aka Nigel Ridgeway) Co-owner of Miyagi Records, DJ TREW's love for performing began in grade school when using two tape decks to spin basement parties. His main aim is to weave a common thread through seemingly disparate genres. Drawing inspiration from the early 1980s NYC art/music world, he believes no genre is off limits, no collaboration too outlandish.
L1 is a creative business accelerator program and retail store located in Washington Park on the Arts Block along the 300 E Block of historic Garfield Boulevard. Operated and managed by Arts + Public Life (APL), L1 is situated under the Chicago Transit Authority's Green Line elevated tracks inside of the historic first "L" station built in 1892.
Miyagi Records, located just a few steps to the west of L1 on the Arts Block, is a record dealer specializing in obscure and classic - Soul, Funk, Jazz, Latin, Rock, Blues, World Music, New Wave / Industrial, Hip-Hop, Disco, House LP, 12inch single, & 45rpm formats. As a BIPOC-owned store, they serve the diverse Southside community by showcasing the vibrant musical legacy of Chicago's Southside and by offering patrons high quality customer service and fair prices.

Images above are from the Gustina Steele and Alphonse and Nancie Teer Ellis Family Collections at the South Side Home Movie Project.