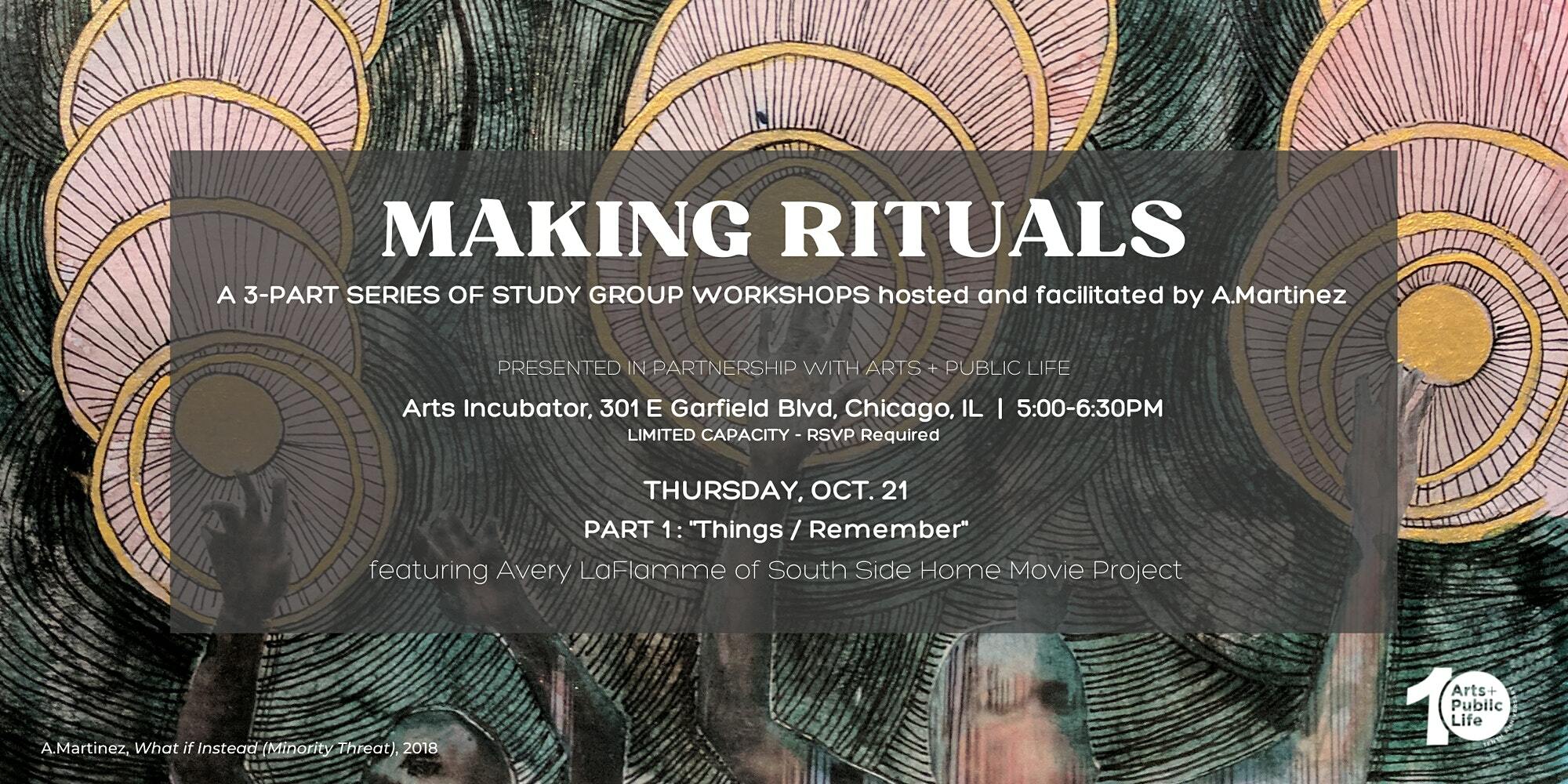 Arts Incubator, 2nd floor Flex Space
301 East Garfield Boulevard, Chicago
This is the first event of "Making Rituals," a series of in-person workshops which serve as generative happenings for collective research for host, guests, and participants alike. The intention of the study group is to spark conversation around returning to our own authentic rituals and reframing our lives around ritual as essential to our survival and connection to the world—past, present, and future. Each gathering focuses on a theme that contains rituals— Part 1: Things / Remember (Oct 21), Part 2: Food / Grow (Oct 28), and Part 3: Body / Move (Nov 11). A.Martinez will interview and facilitate a discussion with a different guest for each workshop to learn about their work and their rituals, and the highlights and challenges they face within that work.
Participants will then be invited for small group discussion and exercises created and led by A.Martinez and the invited guest surrounding the theme.
Avery LaFlamme is a PhD student in the Department of Cinema and Media Studies at the University of Chicago. His work focuses on Black film history and Black documentary and nonfiction filmmaking. He currently works as an intern at the South Side Home Movie Project, supporting archival initiatives and public programming.
COVID safety event info and University of Chicago policies:
All visitors aged 12+ attending public events with fixed audience seating inside of a University of Chicago building must provide proof of vaccination, or a negative COVID-19 test within 72 hours of event, or a positive COVID-19 test within 14-90 days of event and affirm no symptoms. UChicago faculty, students, and staff may present their UCID as proof. All attendees are expected to adopt the risk mitigation measures advised by public health officials (masking indoors and social distancing, etc.). Indoor capacity is restricted at all Arts + Public Life buildings. Detailed information on the University of Chicago health and safety guidelines are outlined at https://goforward.uchicago.edu.