Re-Spin of Spinning Home Movies: "Time Travelin'" with Cam Be
Jul. 09, , 2022 2022
5:00pm CDT
View All Events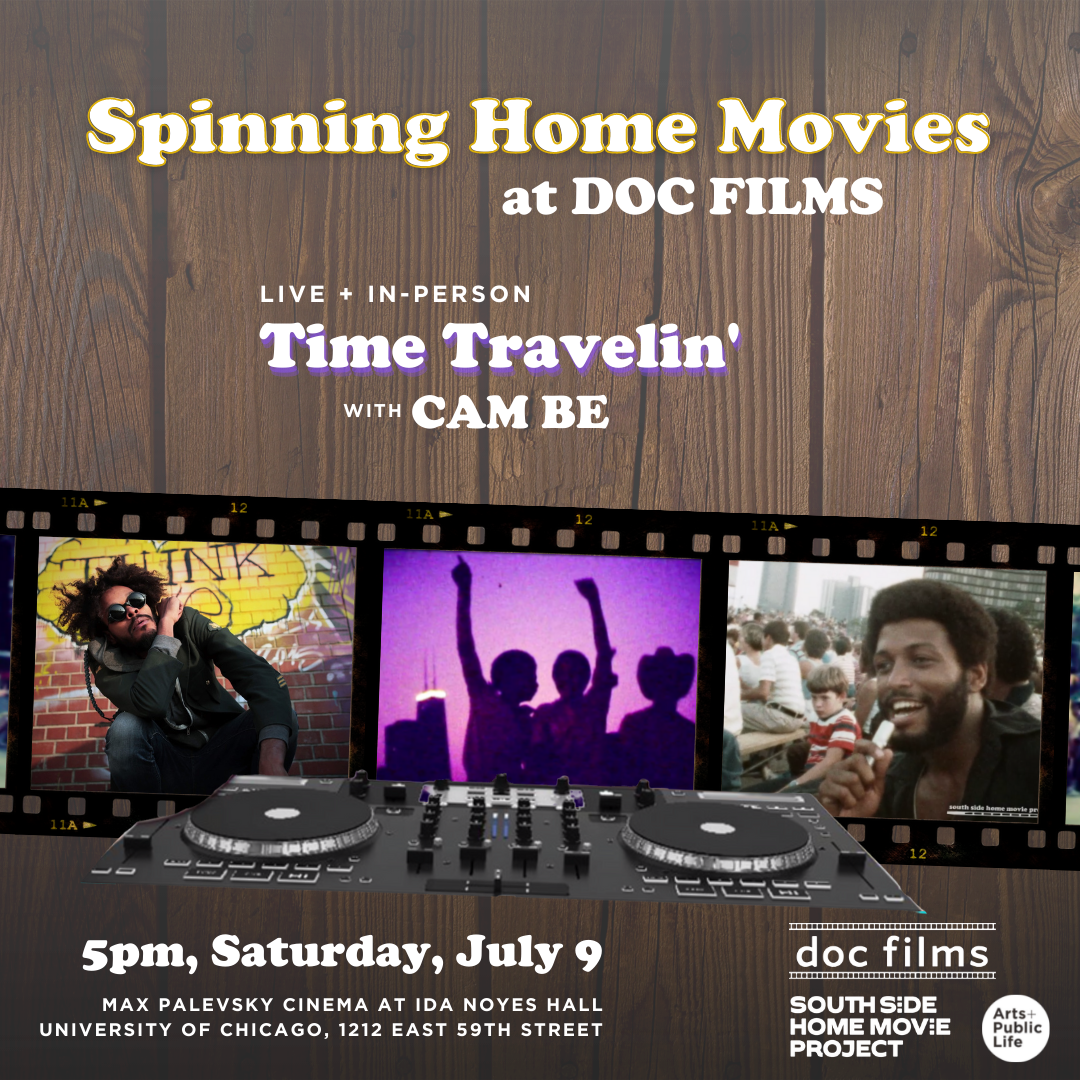 "Time Travelin'" features vintage home movie footage from the South Side Home Movie Project archives, curated and soundtracked by Chicago's own director, photographer, musician, DJ, and producer Cam Be. Through a collage of home movie footage, including from Cam's own personal archives, "Time Travelin​'" explores the interconnectedness of human beings generations apart. Whether it's the beauty that surrounds us or the moments that connect us, our smile radiates the same. Unforgettable moments in this mix include crowd scenes and sweet audio clips from Chicago Fest 1979, and mid-1950s dance club scenes from the Roberts Show Lounge.
Originally aired virtually on May 27, 2021, this live re-screening will be followed by discussion with Cam Be and SSHMP's Spinning Home Movies series producer Avery LaFlamme. This In-person screening of a Spinning Home Movies episode is hosted by Doc Films, the student-run film society at University of Chicago since 1932.
Artist Bio
Cam Be is a film director, photographer, musician, DJ and music producer. His central passion for filmmaking emerged during his studies at New York Film Academy (2006) and Columbia College in Chicago (2008-2010). Cam has interviewed and documented iconic artists such as Maya Angelou, Lauryn Hill, Common, Theaster Gates, Questlove, Hebru Brantley, amongst others.
In 2012 Cam received an Emmy award as producer with NBC Chicago. His first feature length documentary The Exchange is available online at Amazon Video. His short documentary Where Flowers Bloom, the making of the Grammy Nominated Hip-Hop album 'Laila's Wisdom' by Rapsody was released on Tidal in 2018. In 2018 Cam debuted his first solo photo exhibition So I Wrote Love in the Sky at Good Details Gallery in Chicago, IL. His first solo album 7 Steps to 7was release May 2018 as a soundtrack to the exhibition. In December 2020 Cam Be released his second solo album Summer in September. Currently, Cam Be is working on a documentary titled "Project: Building Hope" which was a part of Kartemquin's Diverse Voices in Docs Program. He is based out of Chicago and is the Owner and Creative Director of Camovement.