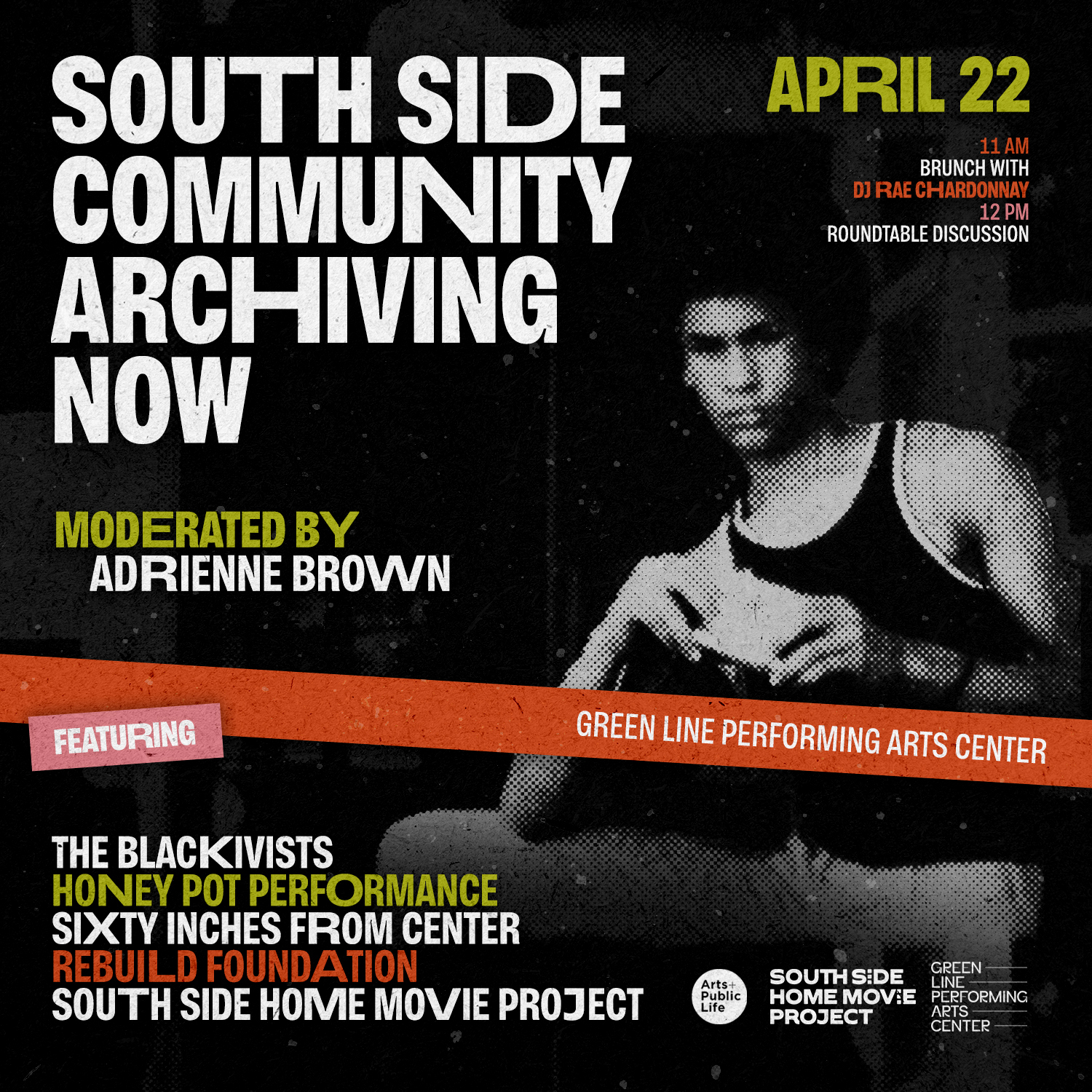 11am - Buffet Brunch with DJ Rae Chardonnay
12pm - Round table discussion
Join us for brunch + conversation as we celebrate the brilliant innovations in archiving on Chicago's South Side, with a host of local archivists whose projects during the height of the pandemic and afterwards have re-energized and expanded the possibilities for community-engaged archiving.
First up, join us for a Brunch Buffet with DJ Rae Chardonnay - we haven't gotten everyone together since pre-Covid, and want to enjoy your company and nurture your body and soul!
Then, we welcome each archiving organization to share the new projects, approaches and strategies they developed in recent years, as a response to the pandemic in our lives, or in spite of it. Adrienne Brown, director of Arts + Public Life, moderates a discussion around how archiving efforts are changing and adapting to contemporary challenges while sustaining a commitment to community engagement and creative activation.
PANELISTS:
Tempestt Hazel, representing Chicago Archives + Artists Project and Loss/Capture, projects of Sixty Inches From Center
Meida McNeal, representing the Chicago Black Social Culture Map, a project of Honey Pot Performance
Kimberly C. Ransom, representing the Mellon Archives Innovation Program, a project of Rebuild Foundation
Stacie Williams, representing Diamond in the Back, a project of The Blackivists
Justin Williams, representing Spinning Home Movies, a project of the South Side Home Movie Project
------------------
This program is presented by South Side Home Movie Project, an initiative of Arts + Public Life, and is supported by a Sustaining Public Engagement grant from the American Council of Learned Societies (ACLS).
BIOS:
Adrienne Brown is Associate Professor in the Departments of English and Race Diaspora and Indigeneity at the University of Chicago and the Director of Arts + Public Life, a hub for artistic exploration, expression and exchange that centers people of color and fosters neighborhood vibrancy on Chicago's South Side. She is the co-editor with Valerie Smith of the volume Race and Real Estate (2015), and the author of The Black Skyscraper: Architecture and the Perception of Race, winner of the 2018 First Book Prize from the Modernist Studies Association. Her latest book, The Residential is Racial: A Perceptual History of Mass Homeownership will be published by Stanford University Press in early 2024.
Tempestt Hazel is a curator, writer, and co-founder of Sixty Inches From Center, a Chicago-based collective of writers, artists, curators, librarians, and archivists who have published and produced collaborative projects about artists, archival practice, and culture in the Midwest since 2010. She has worked alongside artists, organizers, grantmakers, and cultural workers to explore solidarity economies, cooperative models, archival practice, and systems change in and through the arts. You can see more of her editorial, curatorial, and other projects at tempestthazel.com.
Meida Teresa McNeal is Artistic and Managing Director of Honey Pot Performance. She received her PhD in Performance Studies (Northwestern) and her MFA in Choreography & Dance History (Ohio State). Awards include Illinois Arts Council Artist Fellowship in Performance, Field Foundation's Leaders for a New Chicago, 3Arts Award in Dance, Chicago Dancemakers Forum Lab Artist, and the Links' Hall Co-Missions Fellowship. An Independent Artist and Scholar at the intersection of performance studies, dance, and critical ethnography, Meida also teaches at University of Chicago and Columbia College Chicago. Meida also works with the Chicago Department of Cultural Affairs & Special Events' Executive Administration team as the Senior Manager of Arts & Community Impact Investments building and implementing artist recovery programs and creative placemaking grantmaking initiatives. Prior to this role, Meida worked with the Chicago Park District as Arts & Culture Manager supporting community arts partnerships, youth arts, cultural stewardship, and civic engagement initiatives.
Stacie Williams is Division Chief over Archives and Special Collections at the Chicago Public Library. Through her work, she focuses on ethical labor and cultural production, and the long-term sustainability of digital infrastructure. She holds a B.A. in Journalism from the University of Wisconsin at Madison and an M.S. in Library Science with a concentration in Archives and Manuscripts Management from Simmons College. She serves on the advisory board for the international Digital Library Federation and the Library of Congress' National Digital Strategy Roundtable. Stacie uses she/her/hers pronouns. Expertise: data management, data rescue, digitization, digital infrastructure, digital preservation, e-waste lifecycle, archives and manuscripts management, oral history, community outreach and engagement, journalism/mass communication.
Justin D. Williams (he/him) is a memory-worker, documenter, and an audiovisual archivist. His practice emerges from a mix of in/formal training and apprenticeships in black memory-keeping traditions, art and cultural studies, participatory design, media technology, and archival practices. He enjoys working at the margins of memory and media to recover and share the personal and communal narratives that allow us to find honor, connection, and meaning in the cultural heritage objects we are lucky enough to preserve. As the South Side Home Movie Project's Archivist and Project Manager, Justin is honored to work closely with families to preserve and share their home movies as well as the artists, students, researchers and community members who seek to creative engage and reuse these incredible documents of personal documentation. Justin has worked with Kartemquin Films, the Logan Center's Digital Storytelling Initiative, Community Film Workshop of Chicago, Storycorps, City Bureau, and partnered with dozens of organizations to design and produce digital storytelling projects.
Kimberly C. Ransom is an interdisciplinary historian who studies the History of African American Education and the History of Childhood. Her research examines the oral histories and material objects of Black children who once attended segregated schools in the Deep South during the Jim Crow Era (1940-1969). As a public scholar and artist, Kimberly also uses her historical research to create public exhibits related to African American childhood in and around schools. In her most recent project, she has worked in partnership with her dissertation respondents to create a local museum in the sole remaining Rosenwald Schoolhouse in Pickens County, Alabama. Dr. Ransom has received a number of fellowships and awards for her research and leadership including the 2019 NAEd Spencer Fellowship, the 2018 Rackham Public Scholarship Fellowship, the 2017 Rackham Public Scholarship Grant, the 2015 Jackson Scholar Award, the 2011 Chicago Community Trust Fellowship, the 2013 University of Chicago President's Diversity Leadership Award, and the 2010 New York University Women of Color Policy Fellowship. She earned her Ph.D. in Educational Studies from the University of Michigan, M.A. from DePaul University, and a B.S. from Bradley University.