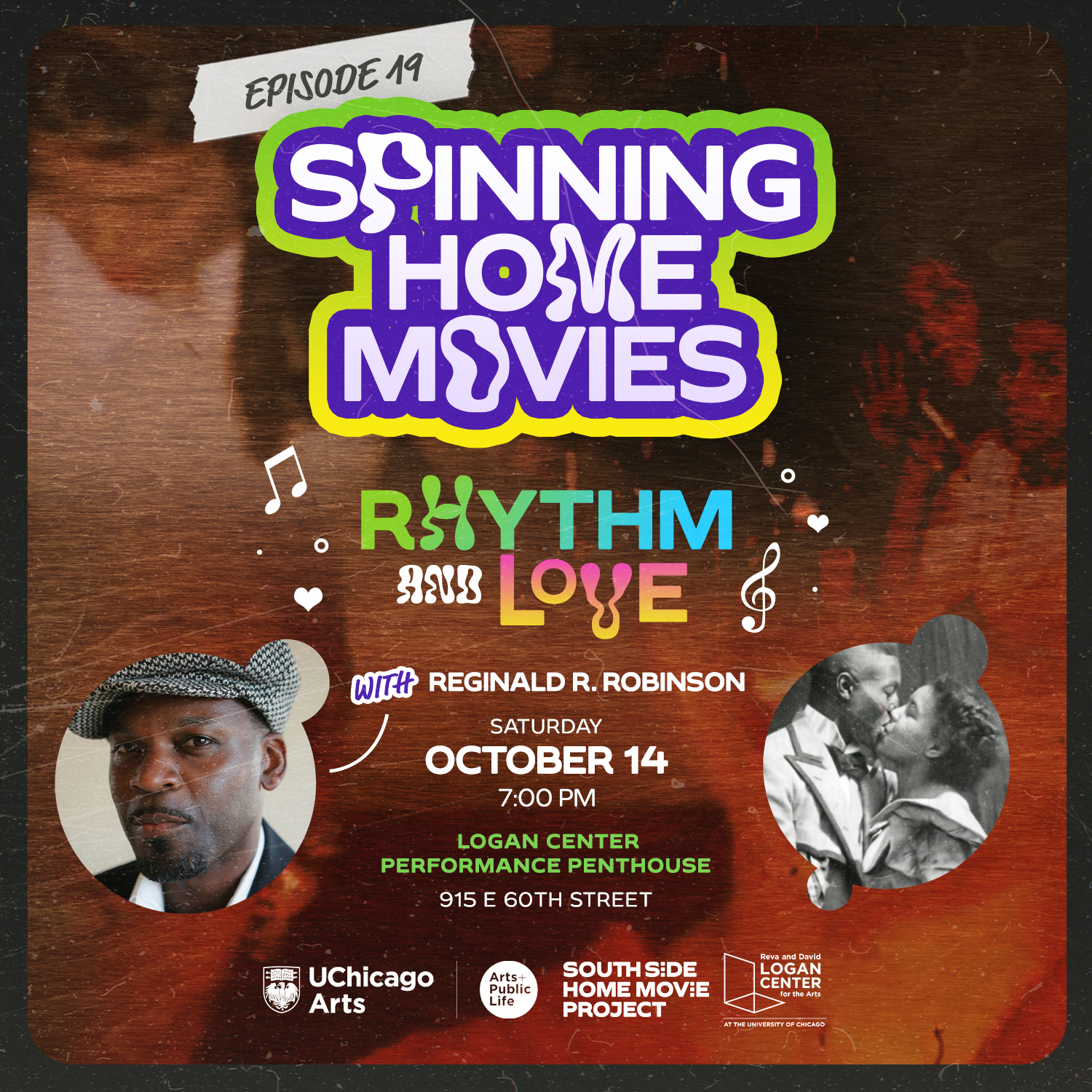 The Spinning Home Movies series returns with an evening of musical performance, vintage films and lively commentary capping the 2023 South Side Home Movie Project artist residency with composer and musician Reginald R. Robinson, in collaboration with film scholar Allyson Nadia Field. Tracing the discontinuities/continuities of Black life and dance across a century, "Rhythm and Love" draws upon audiovisual fragments of historic Black life — ragtime tunes, rare clips of early Black cinema, scenes from the Roberts Show Lounge, house music beats — to present a unique mix of film and music both historic and contemporary.
Tonight's original music composed, produced and performed by Reginald R. Robinson, with percussionist Coco Elysses and saxophonist Fred Jackson. Co-produced by Chip E. Spoken word performance by Staccato.
This program features the remarkable short film Something Good—Negro Kiss (1898) and early films showcasing Black ragtime performers alongside recently digitized home movies from SSHMP's Roberts Family Collection and selections from the Ramon Williams, Leroy Roberson, Philip Maxwell Sr., Charles Merrifield, Ellis Family and Buford Family Collections.
Spinning Home Movies is a public program series that invites local artists to explore the South Side Home Movie Project archival collections, meet home movie donors, and collaborate with SSHMP to craft a unique soundtrack to accompany a curated set of home movie scenes, to be presented live in conversation with the archivists, donors and audiences. This evening's program is episode #19.
This Spinning Home Movies program is produced and presented by the South Side Home Movie Project at Arts + Public Life in partnership with the Logan Center for the Arts, with support from the American Council of Learned Societies, UChicago's Department of Cinema & Media Studies (CMS) and its Film Studies Center. Thanks to the HMH Foundation Moving Image Archive at USC for permission to screen the restoration of Something Good–Negro Kiss.
BIOGRAPHIES:
Reginald R. Robinson's love for traditional jazz styles started in 1984 with his older brother listening to Swing recordings at home. In 1986 while in 7th grade a city funded arts program gave an assembly at his school called "From Bach to Bebop" with a live jazz ensemble. In 1992 with the help of pianist Jon Weber, Robinson's professional music career began when he recorded a demo of 17 original tunes. Soon after his first album was released on Delmark Records in1993 he received an invitation from pianist Marian McPartland to appear as a guest on her popular radio show "Piano Jazz."
Robinson's music has been used in theater and film; The Goodman Theater's 1995 production of Each One As She May, Intimate Apparel – a play 2003, Compensation – an independent film 2000, and he served as a contributing historian for the 2010 documentary Chicago's Black Metropolis. In 2004, he was awarded the rare and distinguished John D. & Catherine T. MacArthur Award for his innovative ragtime piano works and music research.
In June of 2017 Robinson worked with Illinois Humanities to present "An Evening at the Pekin Theater" the first owned and operated African American music theater in the world. In 2018 Robinson was commissioned by pianist Norman Malone and Kartemquin Films to compose a ragtime work for the left hand and premiered a work in tribute to pioneer African American bandleader James Reese Europe commissioned by Symphony Center Presents on November 2nd at Symphony Center. In Dec 2018 Robinson gave a performance/ lecture on Scott Joplin's music at The Schomburg in New York. In 2019 Robinson teamed up with MacArthur fellows Susan Sygall (CEO of Mobility International-USA and the Women's Institute on Leadership & Disability) and flutist Claire Chase for a special music concert of disability activism and artistry.
In addition to concertizing, Robinson is internationally known for his lectures at colleges and universities, which has aided in preserving the legacy of African American history.
Allyson Nadia Field is Associate Professor of Cinema and Media Studies at the University of Chicago where she serves as Director of the Film Studies Center. She is the author of Uplift Cinema: The Emergence of African American Film & The Possibility of Black Modernity (Duke University Press, 2015). She is also co-editor with Marsha Gordon of Screening Race in American Nontheatrical Film (Duke University Press, 2019) and co-editor with Jan-Christopher Horak and Jacqueline Stewart of L.A. Rebellion: Creating a New Black Cinema (University of California Press, 2015).
She recently co-organized the Sojourner Truth Festival of the Arts 2023, a major celebration of the work and legacy of Black women filmmakers. Field was named a 2019 Academy Film Scholar by the Academy of Motion Picture Arts and Sciences and she was a 2020-21 ACLS Burkhardt Fellow at the Newberry Library. In 2021 she was appointed to the National Film Preservation Board by the US Librarian of Congress. She is currently writing a book on the archival rediscovery and afterlives of Something Good–Negro Kiss (1898), for which she was awarded a 2023 NEH Public Scholars Fellowship.
------
ABOUT
SOUTH SIDE HOME MOVIE PROJECT
South Side Home Movie Project (SSHMP) is a research and archival initiative to collect, preserve, digitize, exhibit and research small-gauge home movies made by residents of Chicago's South Side neighborhoods. By asking owners of home movies to share their footage and describe it from their personal perspectives, SSHMP seeks to increase understanding of amateur filmmaking practices, and of the many histories and cultures comprising Chicago's South Side.
ARTS + PUBLIC LIFE
Arts + Public Life (APL) is a dynamic hub of exploration, expression, and exchange that centers people of color and fosters neighborhood vibrancy through the arts on the South Side of Chicago. As a neighborhood platform for arts and culture in Washington Park, APL provides residencies for Black and Brown artists and creative entrepreneurs, arts education for youth, and artist-led programming and exhibitions. Arts + Public Life operates on the Arts Block, a vibrant collection of cultural and commercial spaces along Garfield Boulevard between Prairie Avenue and Martin Luther King Drive in Washington Park.
LOGAN CENTER FOR THE ARTS
Designed as a home for the creative life of The University of Chicago campus and the City of Chicago, the Logan Center is a partner, resource, and catalyst for developing deeper cultural networks and richer creative projects citywide and beyond. From arts education to artistic practice, performance to partnerships, the Logan Center is a creative place of limitless possibilities. logancenter.uchicago.edu
UCHICAGO ARTS
The University of Chicago's robust cultural scene where scholars, students, artists, and audiences converge, explore, and create. Visit world-class museums and galleries; experience riveting performances by local, national, and international artists; immerse yourself in theatrical and musical offerings from UChicago's collection of professional and presenting organizations; and find community through our robust partnerships with Chicago's celebrated artists and cultural organizations. Arts.uchicago.edu