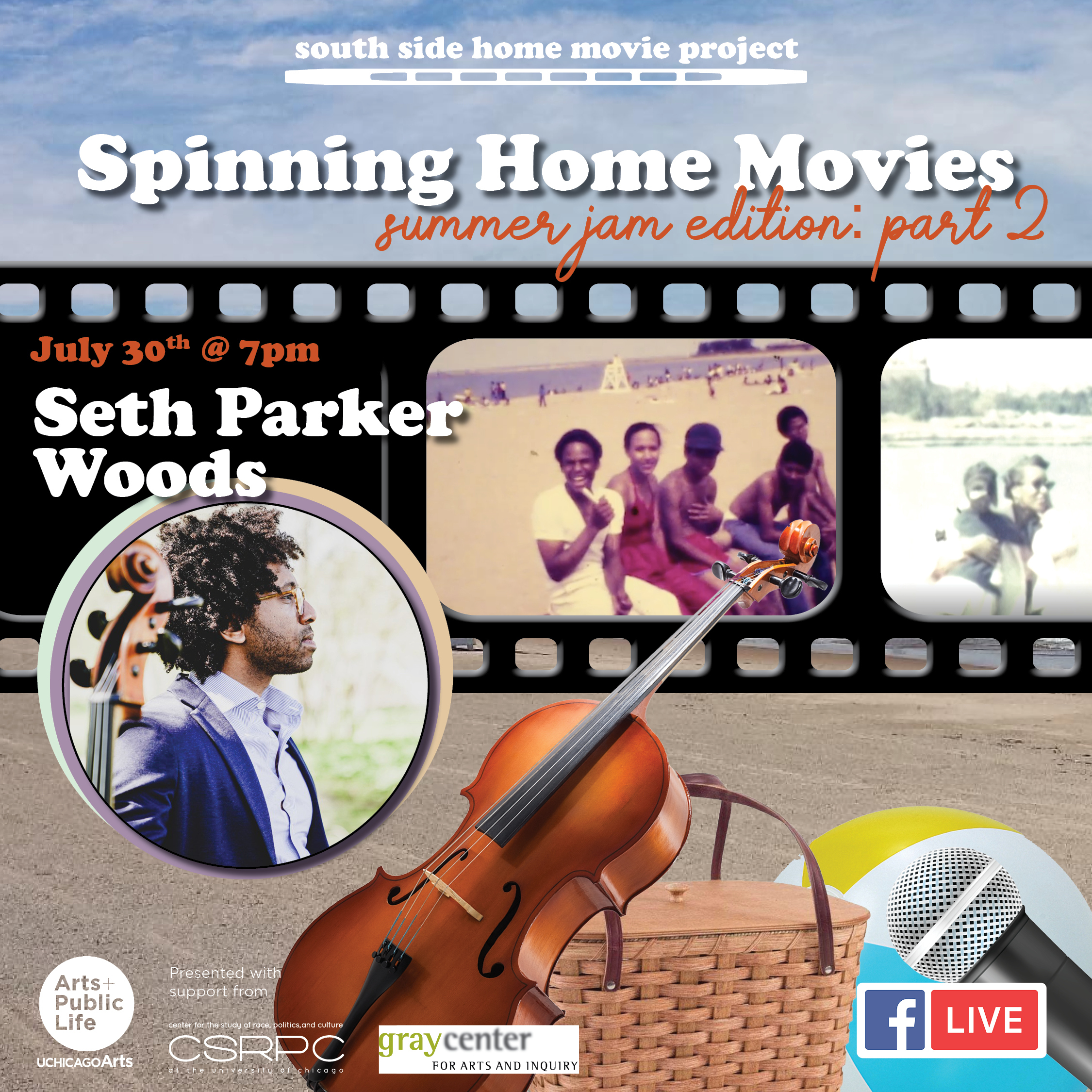 Join us on Thursday, July 30th for Part II of Spinning Home Movies' special Summer Jam Edition, featuring a 30-minute set of vintage home movie footage from the South Side Home Movie Project digital archives curated and sound-tracked by cellist Seth Parker Woods. With a nod to Zora Neale Hurston, Parker Woods' mix "The Will to Adorn" layers his own original compositions, performances and field recordings from Yellowstone National Park, archival audio from the home movies, and recorded music from indie and big label musicians over vivid, poignant home movie scenes to create three distinct movements: "Life Before," "Forces in Motion" and "Lemons into…" With film clips spanning five decades, and sounds ranging from "Yellowstone loons calling" to Alice Coltrane, this uniquely complex episode traces an evolving sense of intimacy.
Watch the Livestream here at 7pm cst on Thursday, July 30:
https://www.facebook.com/artspubliclife/live/
Hailed by The Guardian as "a cellist of power and grace" who possesses "mature artistry and willingness to go to the brink," cellist Seth Parker Woods has established a reputation as a versatile artist straddling several genres. In addition to solo performances, he has appeared with the Ictus Ensemble (Brussels, BE), Ensemble L'Arsenale (IT), zone Experimental (CH), Basel Sinfonietta (CH), New York City Ballet, Ensemble LPR, Orchestra of St. Luke's, and the Seattle Symphony. A fierce advocate for contemporary arts, Woods has collaborated and worked with a wide range of artists ranging from the likes of Louis Andriessen, Elliott Carter, Heinz Holliger, G. F. Haas, Helmut Lachenmann, Klaus Lang, and Peter Eötvos to Peter Gabriel, Sting, Lou Reed, Dame Shirley Bassey, and Rachael Yamagata to such visual artists as Ron Athey, Vanessa Beecroft, Jack Early, Adam Pendleton, and Aldo Tambellini.
Woods serves on the performance faculty at the University of Chicago as a Lecturer/Artist in Residence for Cello and Chamber Music. He previously served on the music faculties of Dartmouth College and the Chicago Academy of the Arts, and holds degrees from Brooklyn College, Musik Academie der Stadt Basel, and a PhD from the University of Huddersfield. At present, he is the Artist in Residence with the Seattle Symphony and the interactive concert hall, Octave 9: Raisbeck Music Center.
The program includes selections from the Ellis McClelland, Lynette Frazier, Jean Patton, Leroy Roberson, Gustina Steele, Alsup Smith, Sylvester Matthews, Pitts and Reed Family Collections.
Presented with support from the Center for the Study of Race, Politics and Culture (CSRPC) and Gray Sound Sessions at the Richard and Mary L. Gray Center for Arts and Inquiry.
Seth Parker Woods photo credit: James Napoli
Learn more about Seth at https://sethparkerwoods.com/
Learn more about the South Side Home Movie Project and explore the digital archives at https://sshmp.uchicago.edu/