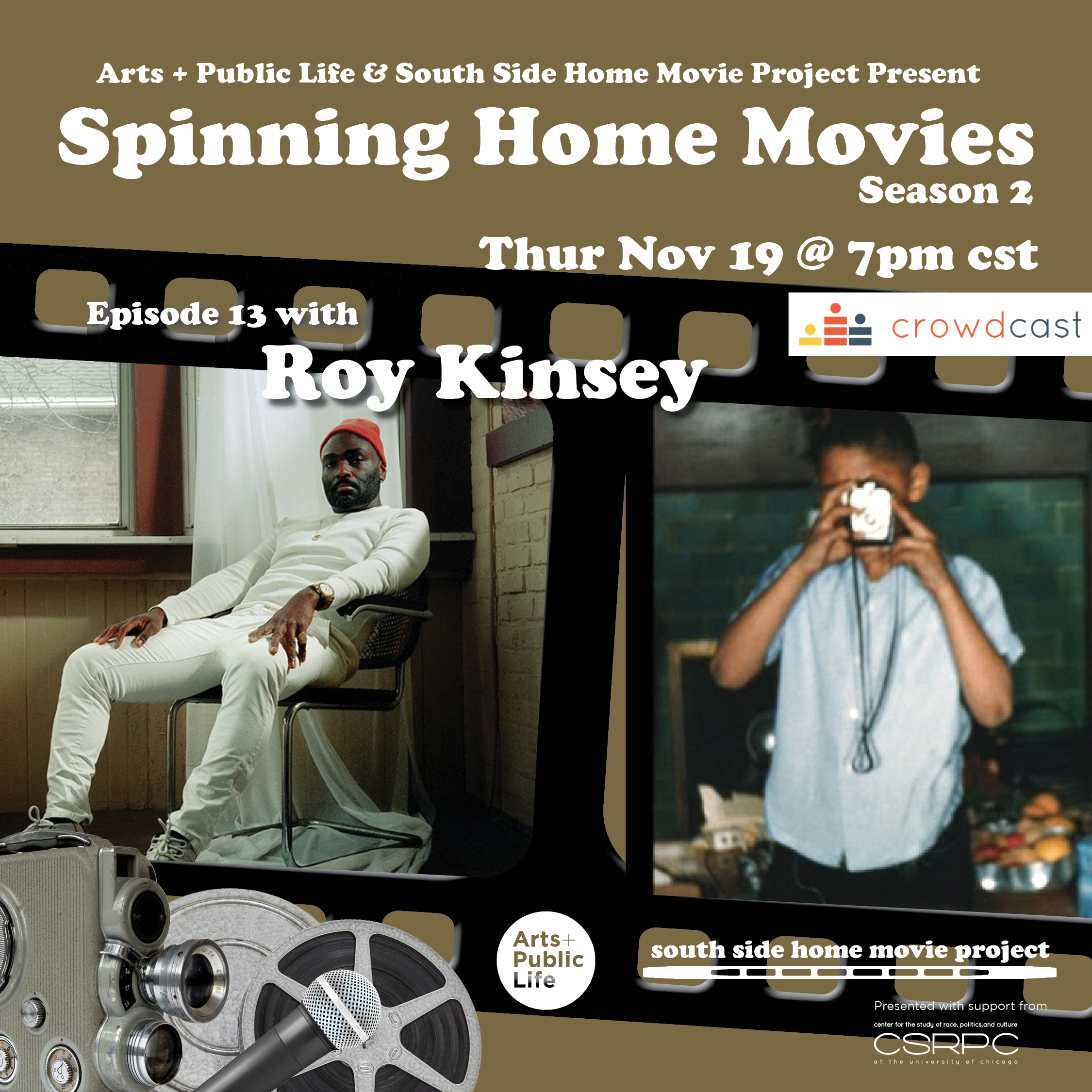 Spinning Home Movies is back for Episode 13 with "What Is Time?," featuring vintage home movie footage from the South Side Home Movie Project, curated and accompanied by original work by rapper and librarian Roy Kinsey.
Thinking about the question posed by Audre Lorde in her poem, "Who said it was simple?," Kinsey brings iconic archival clips, cell phone videos and home movies from his own family's collection into conversation with South Side home movie footage, anchored by original music from Blackie and Kinsey. "I'm highlighting the similarities between past and present lives, thinking about how the issues as well as the joys of life are cyclical, not unique," says Kinsey. "I'm thinking about the concept of a planned forgetfulness, how every generation has to do the work that our predecessors did while still trying to find joy in that cycle, understanding survival as not only existing but finding joy, and leaving behind legacy in the things you produce and reproduce."
The episode features film from the Jean Patton, Alsup Smith, Lynette Frazier, Ellis McClelland, Nicholas Osborn, David D. and Margaret T. Pitts, Philip Maxwell, Sr., and Leroy Roberson Collections.
This episode will air on Crowdcast. Go to https://www.crowdcast.io/e/shmroykinsey/register to rsvp today. Crowdcast allows you to engage with other audience members, so be sure to invite your friends!

About the Artist
Chicago born and raised, Roy Kinsey is a bit of an anomaly when it comes to tradition in his respective industries. where being a black, queer-identified, rapper, and librarian may be an intimidating choice for some, Roy Kinsey's non-conformist ideology has informed his 6th album, and self proclaimed, "best work yet," Kinsey: A Memoir. KINSEY: A Memoir, arguably more poignant than Blackie: A Story by Roy Kinsey, captures a dark, sinister, yet sincere, and potent musical performance by Kinsey. Kinsey's observations are strong on 'Memoir,'; shaped by early traumas that threatened to debilitate his belief in himself as well as the abilities of his family. It is the manifestation of a queer man, in a black body, coming of age in Chicago." Featured on the cover of major local publications like, Chicago Reader and the Chicago Tribune, in and on major national, and international publications like Billboard, LA Times, NPR, WBEZ's Vocalo, WGCI and the RedEye, his "deft skill for storytelling," is proving to solidify him and his contributions in the cannon of black music and literature. Kinsey's video BSAYF, exploring black queer identity and spirituality, premiered at the Museum of Contemporary Art (MCA), the Art Institute of Chicago, the Harold Washington Cultural Center and the Dusable Museum. Kinsey has shared his lyrics on the stages of the legendary First Avenue in Minnesota, Thalia Hall, Soho House, Lincoln Hall, Logan Square Auditorium, Schuba's, and Empty Bottle, and has recently done a series of performances/exhibitions with the Chicago Public Library's seasonal book and theme programming of race and music, One Book, One Chicago. His professional development in librarianship has fueled his desire for self examination and then reporting his findings, in rhyme. He intends and believes the success of his present and future creative works will touch the hearts of many because it comes from the heart.

Roy Kinsey is a librarian in the Teen Services/Youmedia department for Chicago Public Libraries.