The Visual Record: An Introduction to the South Side Home Movie Project
Apr. 05, , 2018 2018
4:30pm CDT
View All Events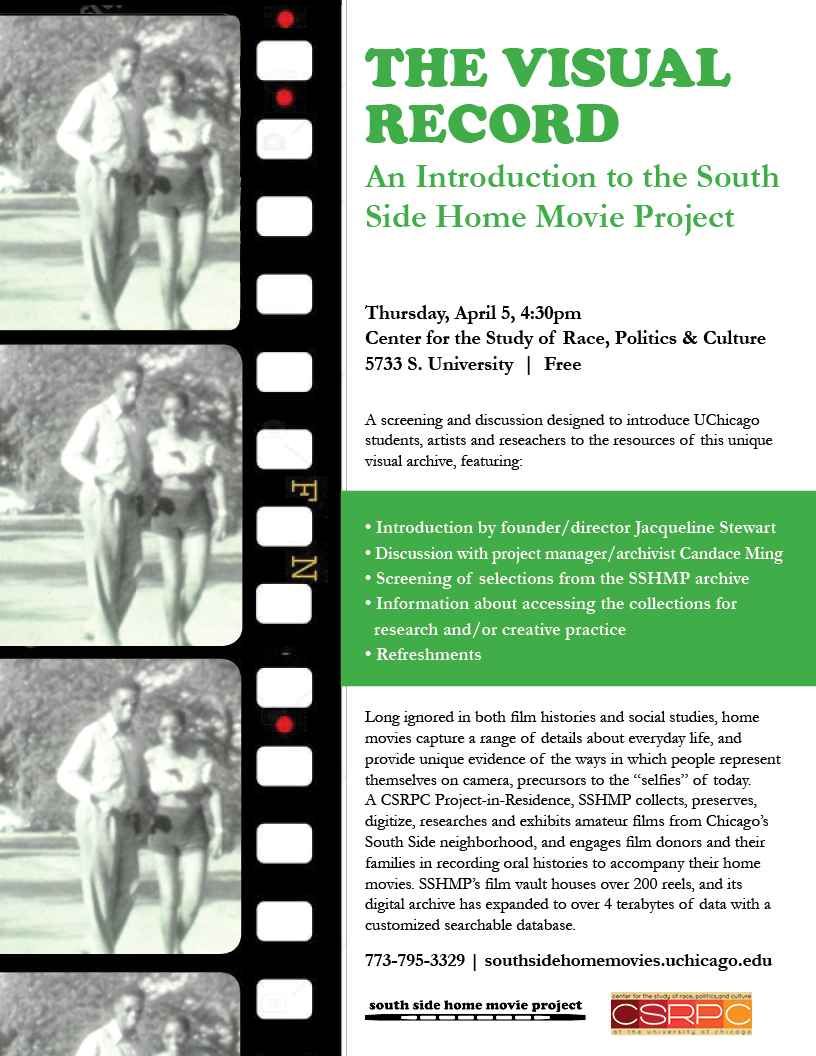 Long ignored in both film histories and social studies, home movies capture a range of details about everyday life that elude textual evidence as well as still photographs. As records created by everyday people, home movies are ripe for interpreting nuances of cultural expression, from fashion to foodways to the ways people walk down the street. Home movies also provide unique evidence of the ways in which people represent themselves on camera, precursors to the "selfies" and "streaks" of today.

The South Side Home Movie Project is an archival and research initiative to collect, preserve, digitize and exhibit amateur films from Chicago's South Side neighborhood. The project also seeks to provide context and history for this historic neighborhood, and engages film donors and their families in recording oral histories to accompany their home movies. SSHMP's film vault now houses over 200 reels, and its digital archive has expanded to over 4 terabytes of data with a customized searchable database. The archive is available for public access and scholarly research.
Supported by the University of Chicago's Center for the Study of Race, Politics, & Culture, the Film Studies Center, the Women's Board of the University of Chicago, and the Office of Civic Engagement's Community Program Accelerator.
Presented by the South Side Home Movie Project and the Center for the Study of Race, Politics, and Culture.