8.20.2021: South Side Home Movie Project Preparing Website Redesign, Shareable Arts Curriculum
Written by Maxwell Evans on 08.20.2021
for Block Club Chicago
HYDE PARK — The archivists behind a collection of hundreds of home movies filmed by South Side residents are making their website more interactive and developing an arts curriculum that incorporates decades' worth of footage.
The South Side Home Movie Project documents everyday life, celebrations and historical moments in the community from the 1920s through the 2010s. University of Chicago professor Jacqueline Stewart started the project in 2005.
Website visitors already can search the archive's 450-plus movies by the year they were filmed, the type of film they were recorded on and other filters — even the techniques used by the South Siders behind the cameras.
Project organizers want to expand on that with an updated site designed with local artists, architecture experts and users. Archivists are also developing a curriculum which encourages youth to engage with the collection.
The efforts are supported by a $60,000 grant from the Gaylord and Dorothy Donnelley Foundation, which funds regional collections, land conservation efforts and artistic programs in Chicagoland and the South Carolina Lowcountry.
"We're actively trying to subvert a common quality of research institutions and archives — which is that they're inaccessible," project manager Justin Williams said.
The website redesign will help the project better achieve its mission: collect, preserve, digitize, research and exhibit historical films, Williams said.
An initial design phase aimed to lay out "a site that feels like the South Side; that honors the various expressions of joy, of laughter, of resistance, of pride," Williams said.
Project organizers worked with artists like Faheem Majeed, Lee Bey and Amanda Williams alongside film donors and musicians featured in the virtual Spinning Home Movies series to redesign the site.

Next, they'll gather community input on ways to make the site more engaging and accessible.
Ideas include adding feedback options, where viewers can share their knowledge about films; visualization tools like maps or timelines; and showcases for visitors to upload projects that creatively reuse the films, in the vein of Spinning Home Movies.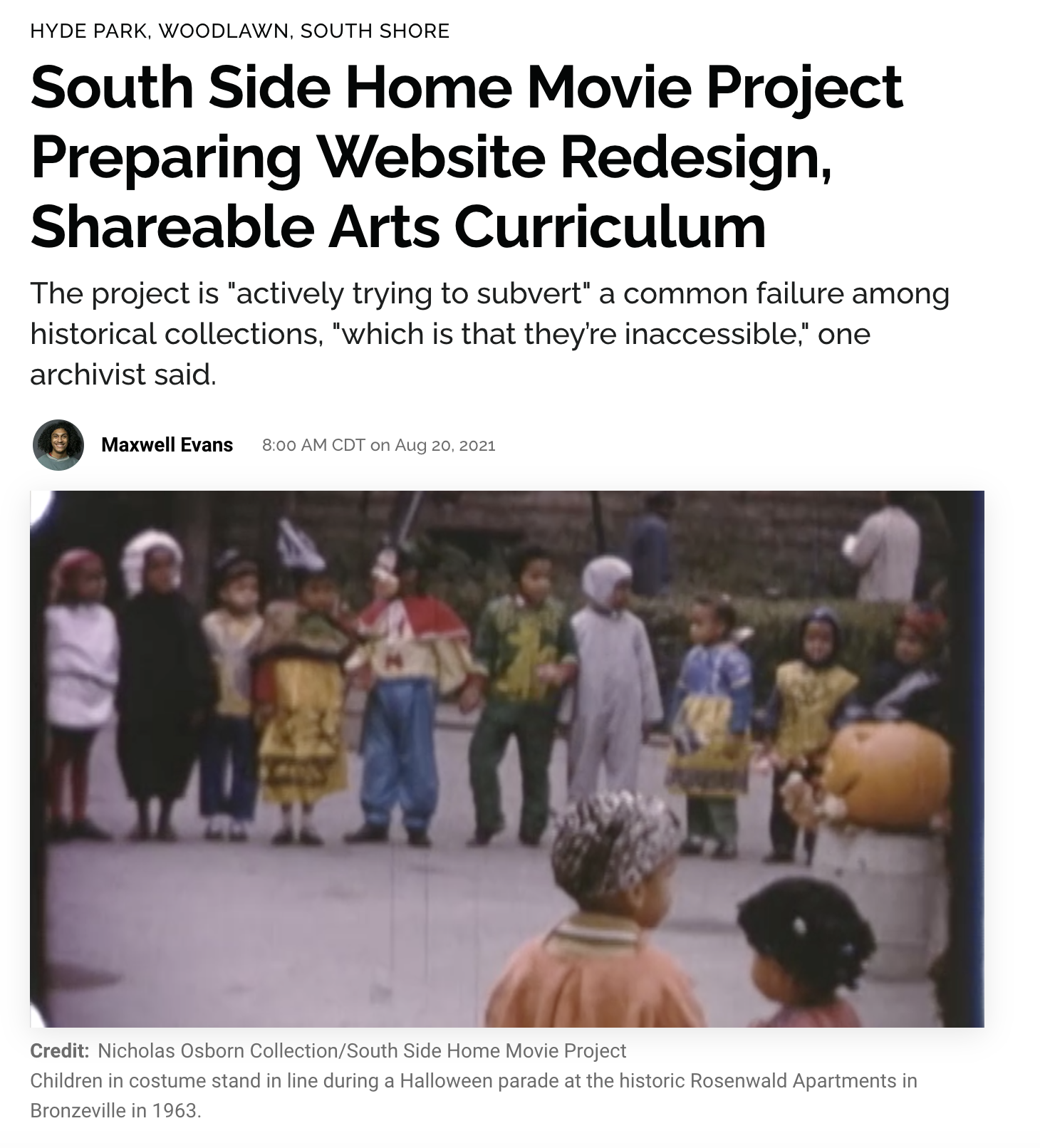 South Side Home Movie Project Preparing Website Redesign, Shareable Arts Curriculum
"We're hoping to create a lot of opportunities to get feedback so we can build these tools," Williams said.
A relaunch of the site is planned for early November.
The Home Movie Project will also refine and share its curriculum, which is now in its pilot stage. High schoolers with the University of Chicago's Teen Arts Council have tested the curriculum since January.
Students analyze the movies as records of residents' intimate moments and for their historical value, Williams said. By studying Spinning Home Movies episodes, students also learn how to add new life to old film with video montage and collaging techniques.
The Donnelley Foundation grant will help hire consultants and create a resource kit to be shared among teaching artists under a Creative Commons license.
"We hope other educational partners can use [the curriculum] free of charge — and even change it or remix it, and just attribute that [the Home Movie Project] is where it started," Williams said.
The grant comes from the Donnelley Foundation's Broadening Narratives initiative, which supports archival projects sharing stories of racial, sexual, gender and other historically underrepresented identities.

The Haitian American Museum of Chicago, Honey Pot Performance's Chicago Black Social Culture Map, the National Museum of Mexican Art's permanent exhibition "Nuestras Historias: Stories of Mexican Identity" and the Chicago Black Nurses Archive Mapping project at the University of Illinois Chicago are the other local awardees.

With its website and curriculum, the Home Movie Project redefines what a historical collection can be by allowing residents to "feel they can contribute to the archives," said Ellen Placey Wadey, the foundation's director of Chicago arts and collections.
"It's not something that comes at them, but something they can be a part of" by donating their films and attending screenings, Placey Wadey said.
The films — and artists' constant reimagining of the content — offer "a counter-narrative to the effects of systemic racism," which are frequently centered in stories about Black communities, she said.
"Often in mainstream media, the lives of African-American people are told through crime statistics, the violence in neighborhoods and blight," Placey Wadey said. "The whole history of the strength of community on the South and West sides … always seems to be overlooked."
Collections like the Home Movie Project "let folks know they've only been hearing part of the story," she said.
Williams is a featured panelist at Saturday's Filmmaking on the South Side discussion, hosted by the Chicago Humanities Festival. The panel takes place 7-9:30 p.m. at the Gary Comer Youth Center, 7200 S. Ingleside Ave.
The next Spinning Home Movies episode, "The Movements of D-Composed," goes live on YouTube Aug. 26.