SSHMP & the Arts Lawn - 2nd Look
In celebration of the upcoming Arts Lawn, the South Side Home Movie Project invites you to walk alongside vintage scenes of public life drawn from our home movie collections depicting moments of intimacy and connection that green space nurtures across Chicago's South Side.
When thinking about public space, oftentimes "public" suggests large groups or impersonal interactions. The images displayed in this installation highlight the small, tender, and often unnoticed encounters that frequently take place in public spaces—invoking feelings of belonging and nostalgia that emerge along with a sense of community ownership.

These home movie stills were selected by a multigenerational team of co-curators composed of film donors, local high school students, South Side artists, and project interns. The curation team was inspired to recall the easy intimacy and comfortable public life that we yearn to return to, and to stay grounded in the positive transformations of the past year—tapping into the community's long history of mutual care.
Explore this page for a look into the curatorial process.
Films featured in the exhibit. These clips are accompanied by a piece from the soundtrack Rae Chardonnay created for the exhibit: "I Am the Black Gold of the Sun" by Minnie Riperton + Rotary Connection. More information below.
The South Side Home Movie Project is home to millions of frames that capture countless moments. How were we ever going to select only seven?
The curatorial process began by asking each curator to explore with the Archive on their own and select a handful of stills that engage with the idea of Public Space. The range of resulting images was a testament to the breadth of the Archive and the ability for each individual to relate with it through the lens of their own unique experiences.
For example, Ms. Foreman drew from her own family's Patton Collection, the films she knows best. As someone who hails from the West Side of Chicago, Rae was drawn to the depictions of connections between the South and West sides of the city, including the Green Line and Garfield Park Conservatory. Justina, a current high schooler, brought a lively photo of a graduation ceremony to the table. Each photo became precious because of the intimate interaction between the individual curator and the Archive.
The next step was to create a space where these individual interactions could engage and converse with each other. The resulting conversation between individual curators and their images would, ultimately, pare down the collection to seven images for the exhibit. This was, perhaps, the hardest step of the process. Each image had become so precious that deleting any single one seemed impossible. Not to mention, the entire process had to be conducted online, over Zoom.

Only in hours of conversation did our new priorities as a community of curators begin to emerge. Certain images resonated with us immediately while others were caught our attention only when placed next to each other; for example, the unexplainable tenderness captured in the image of the little girl from the Frazier Collection was reflected and amplified by the image of the little boy gently resting his head in the Steele Collection. Through this curation process, we had created a new and unique space for these images to grow and be re-examined.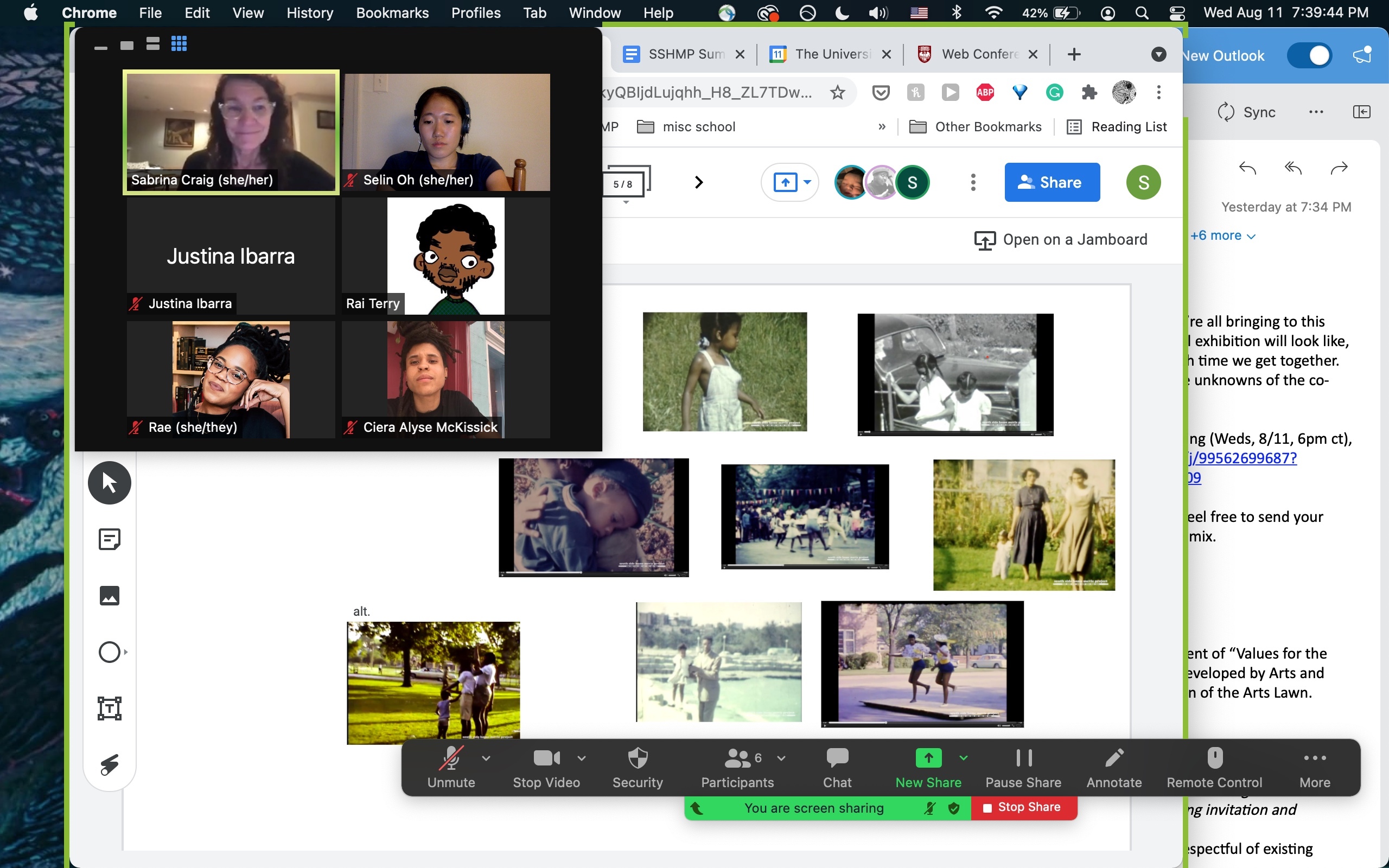 While most people interact with the films in the Project's Collection through the online Archive, it's important to remember that these videos begin with the physical film itself -- palm-sized reels where a couple seconds of footage translates into hundreds of feet of film. The Project stores all its films in a climate-controlled vault to protect from otherwise rapid deterioration. This digitization process is a testament to the Project's ability to physically preserve the film so that new life can continue to be generated.

Out of a million moments captured in each reel, the specific frame in each film was identified and re-scanned. The higher quality scan allows for each image to be blown up in size without compromising the quality of the image. The seven images were then printed as the curatorial statement was put together. The Project's Archivist Justin Williams worked to enlarge each frame, originally standing at 8 millimeters tall, into a banner that would fit an entire fence.

The Final Selections
The final set of images was selected because they spoke to one another in this space we had created. what love looks like in public eventually came out of an exploration of scale between the set of images. How do we experience Public Space not only through large gatherings but within the intimate moments we share with loved ones as well?
Mounting the Exhibit on the Block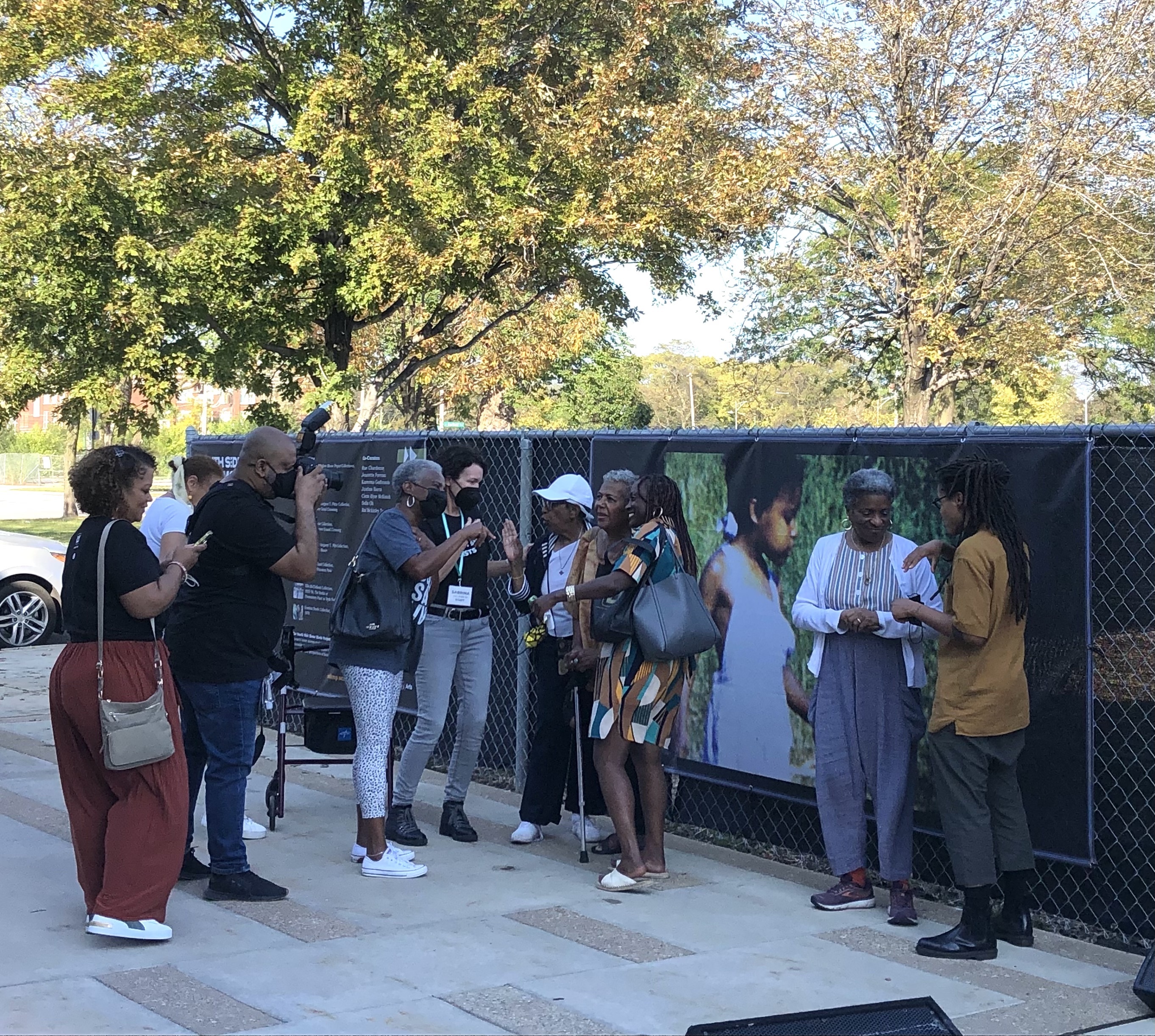 Once the banners were complete, the full exhibit was finally revealed at the Back on the Block celebration hosted by Arts + Public Life; the images were given new life once again. Never had these Collection Images been enlarged and displayed on Garfield Boulevard. The banners were also accompanied by the works of two South Side artists --Rose Blouin and Edo. Music and conversations filled the air as people excitedly took pictures with the exhibit.
This story of curation traces a general process: individual intimate experiences that are then constantly re-created as they are put into conversation with new contexts. This is hopefully reflective of the ultimate goals of the upcoming Arts Lawn; a public space should be a space that simultaneously respects each individual intimate history that enters as well as encourage the creation of new life and experiences. The same values apply to the SSHMP; the Project's aims to both preserve and exhibit home movies ensure that the Archive is always brought to new life with each and every individual interaction.
We encourage you to visit the Arts Block and the featured artists, including what love looks like in public, until the opening of the Arts Lawn in the summer of 2022.
"What love looks like in public": South Side Home Movie Project Public Installation
Additional Projects
SSHMP has previously engaged with the idea of Public Space through the Everyday Resistance exhibit series. In particular, the conversation around Parks as Contested Spaces was a chance to learn about the ways parks and access to rest, safety, and leisure have been politicized.
Watch the interview
Featured Collections
Featured Tracks
Clip from Lynette Frazier's oral history recording, July 23 2007 — South Side Home Movie Project
"Family Affair" — Sly and the Family Stone
"Walking into Sunshine" — (Larry Levan mix) - Central Line
Clip from Susan and Ellis McClelland's oral history recording, February 17 2008 — South Side Home Movie Project
"Family Affair" — Mary J. Blige
"Joy & Pain" (Classic House Mix) — DJ De La Roche + Dawn Williams
"I Am the Black Gold of the Sun" — Minnie Riperton + Rotary Connection
Rae Chardonnay
Spinning Home Movies Artist
DJ, arts manager and events producer Rae Chardonnay is dedicated to encouraging a life of open-minded learning and expression. She is the Founder of Black Eutopia, a program designed to cultivate space for marginalized communities, and co-founder of the award winning Party Noire. She was recently noted as one of Chicago's Top 5 DJ's by NPR, and Chicago's Best DJ by the Chicago Reader. Rae collaborated with SSHMP on episode 6 of Spinning Home Movies: "If just for a moment, eutopia."
Jeannette Foreman
Home Movie Donor
Lawyer, small business consultant, educator, media/arts/communication advocate, the thread running through Jeanette Foreman's 40 + years of work is activism aimed at creating solutions for the social, economic and political inequities impacting Black lives. Foreman has championed the Creative Arts as the most powerful tool to produce good solutions across societal boundaries. Her family donated over 100 home movies, the Jean Patton Collection, to the South Side Home Movie Project.
Kareema Godhrawala
Teen Arts Council Member
A college freshman majoring in English, Kareema Godhrawala is interested in entertainment and publication along with the arts. They have served as an intern at the Art Institute and worked with the Teen Arts Council at Arts and Public Life to create socially motivated art collections and projects.
Justina Ibarra
Teen Arts Council Member
A senior at Muchin College Prep high school, Justina Ibarra is an intern at the Teen Arts Council at Arts and Public Life, and an artist who works with video, photography and abstract murals. Justina is ambitious in producing art and film, and is also interested in entertainment, publishing and directing.
Ciera Alyse McKissick
Spinning Home Movies Artist
Ciera Alyse McKissick is an independent writer, curator, cultural producer, and the founder of AMFM, an organization whose mission is to promote emerging artists. Her work often involves collaboration through supporting Black and brown artists, local arts organizations, and seeks to stimulate community engagement that's driven by inclusivity, accessibility, intention, and care. Ciera collaborated with SSHMP on episode 14 of Spinning Home Movies: "In Transit(ion)."
Selin Oh
Undergraduate Student
Selin is currently based in Chicago—with roots in Indianapolis and Korea— where she studies history at the University of Chicago. She has had the great privilege of working as a collections intern with the South Side Home Movie Project. Selin is ultimately interested in the public histories we share and the roles public spaces play in shaping those stories.
Rai Terry
Co-curator & Graduate Student
Rai Terry is a Black queer visual scholar, audiovisual archivist and multimedia artist. A master's student in the Public Humanities program and Fellow at the Center for the Study of Slavery and Justice at Brown University, they are interested in engaging and preserving spaces of Black Queer agency and joy within and outside of the archive and utilizing alternative ways of history making toward a truer public education. They recently completed a Summer Internship with the South Side Home Movie Project.
More For SSHMP & the Arts Lawn - 2nd Look: