12.13.2021: New Digital Portal to Chicago's South Side is Open: Welcome to SSHMP's New Website
Written by SSHMP on 12.13.2021
South Side Home Movie Project's new website offers an exciting virtual destination with an array of opportunities to explore, contribute to and immerse yourself in South Side histories.
With this new online presence, we honor and celebrate local home movie makers from throughout the 20th century, and boldly declare the beauty, culture and history of Chicago's South Side. Drawing on the power of the films themselves, this new digital portal presents a distinctive introduction to the visual history of our neighborhoods and to the families, places, and moments that constitute our home movie collections.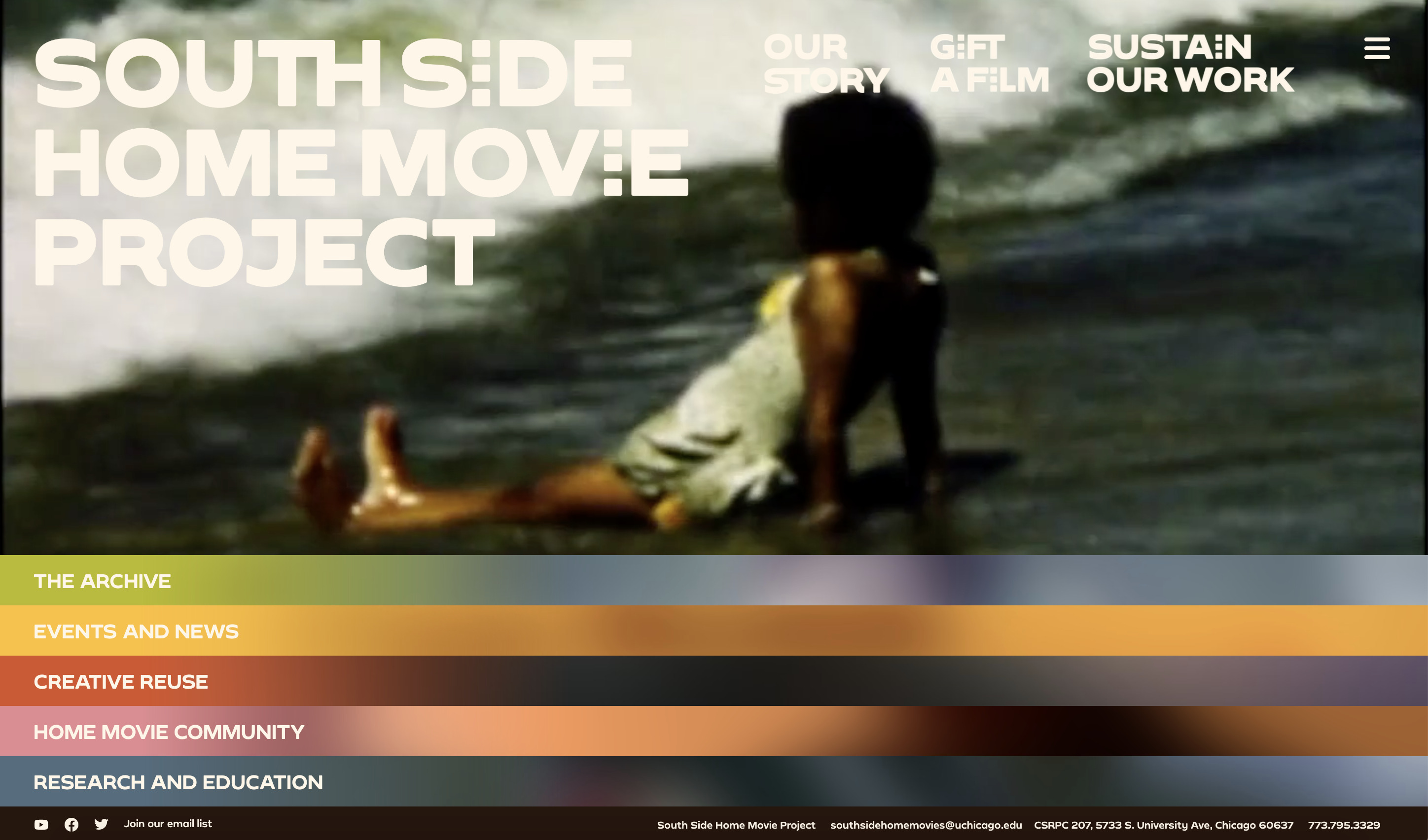 • Research and Education: explore recent educational partnerships and presentations, and find out how to become a Community Cataloger
• Home Movie Community: get to know the families behind the films and the many opportunities for home movie donors
• Gift A Film: all the details about sharing your own family's films and becoming part of SSHMP's Home Movie Community
With these new ports of entry to our moving image resources, we invite dialogue, research and creative projects about the culture, history and built environment of Chicago's South Side, and contribute new cultural references to the contemporary conversations around urban spaces and American life.
From the outset of the project, our design process centered the values and vision of the South Side. We developed a collaborative design team that reflected our entire home movie community: the film donors who generously offer their personal memories as a public gift; architects and designers that sculpt contemporary environments for public intimacy and connection; artists that draw inspiration from the archive and create new work from it; and teachers and students that see these "memories in motion" as a portal to explore themes of culture, history, and self-expression. Through a series of collaborative design workshops facilitated by members of the South Side Home Movie Project, Arts + Public Life, and UChicago Arts Westin Game Lab, we arrived at a shared sense of identity, aesthetic values, design inspirations, and features and functionalities.
Taking its cues from the analog and material nature of small gauge film, the bright color palette of painted interiors and exteriors of vintage South Side homes, and film stills serving as the actual backgrounds for pages, the site creates a seamless merger between the archival content and the digital structures that house it.
Over 50 home movie donors, South Side artists and architects, archivists, educators, students, colleagues and collaborators shared their insights and expertise to design and build this unique site. We hope it reflects the beauty and complexity of their collective vision, and we are deeply grateful for their enthusiastic support.
Over the next several months, we will begin introducing the new site to our communities through virtual and in-person workshops. With support from the Donnelley Foundation, these workshops will help us identify new interactive tools to integrate into the site to support our community cataloging, digital exhibition, and curricular aspirations. If you would like to join a workshop, contact us at: southsidehomemovies@uchicago.edu.
Advisory Council and Collaborative Design Team
This website would not be possible without the profound intelligence and creativity offered by our Advisory Council and Collaborative Design Team:
Advisory Council
Paola Aguirre
Lee Bey
Jeannette Foreman
Faheem Majeed
Tracye Matthews
CK Ming
Amanda Williams
Collaborative Design Team
Noothan Bharani, facilitator
Erin Venable, facilitator
Ashlyn Sparrow, facilitator
Rae Chardonnay
Jose 'Chicle' Corcoles
Sherry Guo
Julia Hinojosa
Gabe Moreno
Sofia Santana
Sadie Woods

Review Team
Adrienne Brown
Alfredo Nieves-Moreno
Michael Philips
Stacey Recht
Ben Ruder
Ruby Saha
Tony Santiago
Partners
Span Studio
Thank you Nick Adam, John Pobojewski, Leah Wendzinski and the entire Span Studio team for your extraordinary ability to listen, reflect and render such a beautiful website and logo. There was no challenge big or small that you weren't able to deftly handle.
UChicago's Digital Humanities Technology Partners
We are also immensely grateful for technological resources and teams that support us at the University of Chicago. We want to extend a special thanks to Carmen Caswell, Peter Thorsen and Andrew Metlach of UChicago's Humanities Computing Division who maintain our CollectiveAccess digital catalog which serves a foundation for this new site; to Jeff Tharsen of the UChicago's Research and Computing Center who provides use and training of cloud computing and storage for our home movies, and Fred Seaton and Charles Blair of UChicago's Digital Library Development Center who provide safe, secure, long-term digital preservation of our home movies as well.
Foundation Support
Our sincere gratitude to the generous funders whose support sustained the project over two years of development:
Graham Foundation for Advanced Studies in the Fine Arts
University of Chicago Women's Board
Elizabeth Crown and Bill Wallace
Home Movie Donors
Our warmest thanks to the representative from each family who sent us beautiful family photos and detailed information to inaugurate the new online Home Movie Community space:
Freddy Atkins
Elizabeth Branch Dyson
Harriette Moody
Candice R. Frazier
Emily Byrd
Susan Carlotta Ellis
Lynette Frazier
Greg Holland
Jay Kavanagh
Lila Levy
Tracye Matthews
Toby Maxwell

Ross Harano
Susan McClelland
Leah Merrifield
Natalie Nakazawa
Lauren Ming
Jeanette and Ghian Foreman
Linda Pitts
Philip Reed
Lydia Roberson-Rainier
Rob Walker
Gustina Steele