Episode 11: "eryday new mercy(s) part one" by avery r. young
Premiered September 24, 2020

Spinning Home Movies is back for Season 2 with "eryday. new mercy(s), Part 1," featuring vintage home movie footage from the South Side Home Movie Project, curated and accompanied by an original score by interdisciplinary artist, educator and artivist avery r. young.

Spinning Home Movies is produced and presented by Arts + Public Life (APL) and South Side Home Movie Project (SSHMP), with support from the Center for the Study of Race, Politics and Culture (CSRPC) and Chicago Arts Access. Each episode features a 20-30 minute set of 8mm, Super 8mm or 16mm vintage home movie footage shot by South Side residents from the 1920s to 1980s, curated and soundtracked by Chicago DJs, musicians and performing artists. Each episode is followed by a live discussion, "The Rewind," where the Spinning Home Movies production team, guest artists and film donors dig deeper into the episode's themes, discuss the curatorial and creative process, share the back story behind the film clips, and reflect on the unique experience of engaging South Side artists with this local film archive.

watch the premiere
Watch the premiere to see avery's interview with Jacqueline Stewart, reactions from the audience, and the post-show Rewind with the artist, home movie donors, and APL and SSHMP team.
watch the live stream
Debuting a piece for young's work-in-progress "maim de looter(s)," a choreopoem about the Kings Riots on Chicago's Westside in 1968, this episode features performances by the soul funk band de deacon board, as young merges sermon and funk to articulate the ways in which the people living in those neighborhoods navigated through loss, neglect and mourning.This ekphrastic musical composition responds to home movie footage of the aftermath of historic riots in Detroit in 1967 and of Resurrection City in DC in 1968, drawn from the Sylvester Matthews and Lynette Frazier Family Collections at SSHMP.
On Saturday, October 10, "Spinning Home Movies: eryday. new mercy(s), Part 2" will be presented live at Principle Barbers in North Lawndale, in collaboration with Night Gallery's exhibition series, Wonderland. As a follow-up to the Sep 24 program, young and a group of musicians will create a live ekphrastic work in reaction to a single reel of home movie footage of the 1968 King Riots in the East Garfield neighborhood on Chicago's West Side, from the South Side Home Movie Project's Jean Patton Collection. The music will be improvised as the musicians encounter the footage together for the first time. More details.
ABOUT THE ARTIST
avery r. young
Interdisciplinary artist avery r. young is a 3Arts Award winning teaching-artist, composer and producer with work that spans the genres of music, performance, visual arts and literature. Examining and celebrating Black American history and culture, his work also focuses in the areas of social justice, equity, queer identity, misogyny and body consciousness. As a writer, this Cave Canem alum has work featured The Breakbeat Poets, Coon Bidness, to be left with the body and Make Magazine. He has also written curriculum and essay on arts education which appear in Teaching Artist Journal and A.I.M. Print. His new full-length release, "booker t. soltreyne: a race rekkid," features songs and other sound designed created during his Arts + Public Life and Center for the Study of Race, Politics, and Culture (APL/CSRPC) artist residency. It was during this residency that he worked worked on sound design and concrete poems called "cullud sign(s)." Through voice, sound, visual art and performance, young is constantly exploring the forms and spaces in which poetry can exist. Most recently, he is the vocalist on flutist Nicole Mitchell's Mandorla Awakening (FPE Records) and his poetry is featured in photographer 3Arts Awardee, Cecil McDonald Jr.'s debut book, In the Company of Black (Candor Arts) and his first book neckbone (Northwestern University Press) was released in June 2019. He is currently one of four directors for the Floating Museum and touring with his band avery r. young & de deacon board.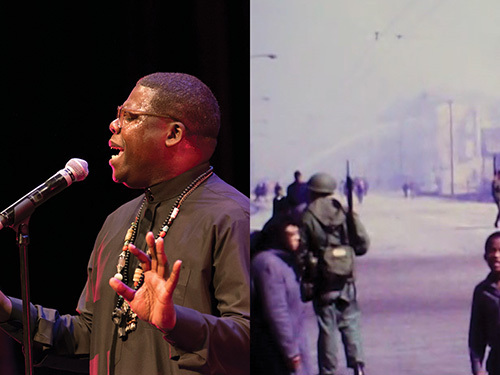 Featured Tracks
sermon off madison & wilcox — avery r. young & de deacon board
east garfield [blk & sun] — avery r. young & de deacon board
motherless child — avery r. young & de deacon board
dey pray deyself to sleep — avery r. young & de deacon board
senate theater — avery r. young & de deacon board
bullet [shot him down] — avery r. young & de deacon board
resurrec(t) fred — avery r. young & de deacon board
dat new black [quarter party remix] — avery r. young & de deacon board
if 6 was 9 — avery r. young & de deacon board
sis. peaches — avery r. young & de deacon board
heyzeus — avery r. young & de deacon board
More Spinning Home Movies Episodes: