Episode 7: "These Birds Are Gentle, Please Be Kind" by DJ Ariel Zetina
Premiered May 14, 2020

In DJ Ariel Zetina's mix, "These Birds Are Gentle, Please Be Kind," home movies and house music are vessels, and we're invited aboard for an unforgettable journey. Film of tropical vacations, pink flowering trees and purple sunsets, accompanied by beachy-house vibes, transport us from dreamy wintery scenes to a pastel paradise. Featured home movies include clips from the Alphonse and Nancy Teer Ellis, Frederick Atkins, Levy-Gunansky Family, Charles Merrifield, Dr. George R. Reed, Lynette Frazier, Jean Patton and Buford Family Collections.

watch the premiere
Watch the premiere to see Ariel's interview with Jacqueline Stewart, reactions from the audience, and the post-show Rewind with the artist, APL and SSHMP team.
watch the live stream
ABOUT THE ARTIST
DJ Ariel Zetina
Ariel Zetina is a Chicago based artist, focusing in music production and deejaying. Though her music can be considered techno, she takes inspiration from Chicago house, Belizean genres punta and brukdown, and the queer club scene worldwide. These influences can be heard on her 2017 EP "Cyst" on Boukan Records; on tracks released by Club Chai, Knightwerk, Majía, Materia, & Sweat Equity; and on mixes for Rinse FM, Discwoman, Astral Plane, Red Bull Radio, and NTS. Her ruthless, cross genre DJs have been heard worldwide- her favorites include R4R (Berlin), Brutaz (Warsaw), Festival Grounded (Ljubljana), Femmetopia (London), Mixed Forms (SF), Directory (LA), Swetboxx (Miami), Discwoman (Detroit) & Wrecked/Carry Nation (NYC). In Chicago, she is a resident at the legendary house club Smartbar, where she runs Diamond Formation, one of her many club nights across the city (Rosebud, Ariel's Party, Rumors).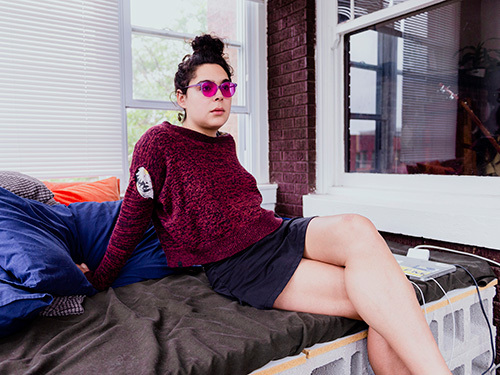 More Spinning Home Movies Episodes: