Episode 5: "Journeys" by DJ CQQCHiFRUIT
Premiered April 30, 2020

Wanna get away? "Journeys," this week's mix from DJ CQQCHiFRUIT, takes us from Florida beaches, a Puerto Rican bullfight, and a 1979 Gloria Gaynor show, to a Star Wars re-enactment and a Liberian sunset, incorporating elements from their Miami roots and Chicago residence, with emphasis on banging bass, high BPMs, and powerful vocals.

watch the premiere
Watch the premiere to see CQQCHiFRUIT's interview with Jacqueline Stewart, reactions from the audience, and the post-show Rewind with the artist, APL and SSHMP team.
watch the live stream pt. 1
watch the live stream pt. 2
ABOUT THE ARTIST
DJ CQQCHiFRUIT
Jacquelyn Carmen Guerrero aka DJ CQQCHiFRUIT is a Chicago-based multidisciplinary artist of Cuban and Puerto Rican descent, originally from Miami, FL. CQQCHiFRUIT's sound incorporates elements from their Miami roots, Chicago/Midwest residence, and global interest with an emphasis on divas, womxn, and queer artists from around the world. In 2015, along with Chicago producer La Spacer, CQQCHiFRUIT co-founded and became resident DJ of TRQPiTECA, a Chicago-based artist duo and production company creating space for local and international artists working with queer and tropical aesthetics to experiment and thrive.
Jacquelyn Carmen Guerrero is also a multi-disciplinary artist who studies and uncovers the complexities of Caribbean heritage through ornate installations and captivating performance that create spaces for transformation. Their practice centers on the research, rediscovery, and reclamation of the cultural, spiritual, and artistic legacies of their queer, AfroCuban, and Puerto-Rican intersection. This research and reflection is expressed through visual art, music, and performance that combines natural, often tropical elements, and spiritual or magical processes.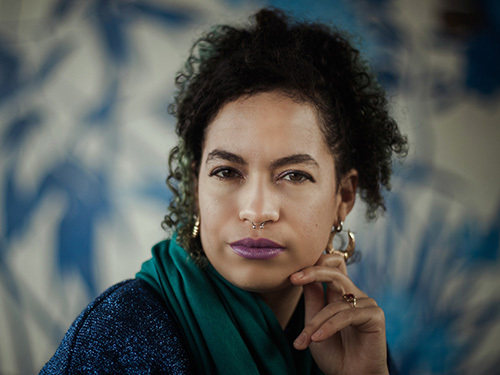 More Spinning Home Movies Episodes: