Episode 14: "In Transit(ion)" by Ciera McKissick
Premiered April 29, 2021

Spinning Home Movies is back for Episode 14 with an all-new mix featuring vintage home movie footage from the South Side Home Movie Project, curated and soundtracked by writer, curator, video artist, and cultural producer Ciera McKissick, in collaboration with DJ SKOLi.

watch the premiere
Watch the premiere to see Ciera's interview with Jacqueline Stewart, reactions from the audience, and the post-show Rewind with the artist, home movie donors, and SSHMP team.
watch the live stream
Last year as everything came to a standstill due to the pandemic, a lot of people turned to the great outdoors, national parks, and road trips for respite, leisure, and a chance to connect and ground in something deeper. In the past few decades, we have seen so much Black trauma in relation to cars and transportation, from "driving while black" and policing, even physical harm or death in the cases of Philando Castile, Sandra Bland, Jacob Blake, and unfortunately many others. The rich history of Black people and their ties to cars isn't often explored, but automobiles were a main mode of transportation for Black families during The Great Migration and later, as status symbols, escape, transition, and road tripping as well as a way to create their own versions of the "American Dream," and to connect with loved ones.

In a way, Black people have always been "in transit" and "in transition" whether it be the forced journey to this country, marching for their rights or seats on the bus, or in longing and moving towards something better.

This month, Spinning Home Movies curator Ciera McKissick takes us on a road trip of her own, with scenes from the South Side Home Movie Project archives illustrating Black transition and travel. Oscillating between first person viewer and voyeur, viewers will experience the road as though they were on a journey themselves through Chicago, South Dakota, Los Angeles, Tokyo, France, Germany and more, set to the music of DJ SKoli, AMFM Resident DJ, who will act as our radio soundtrack on the road.
ABOUT THE ARTISTS

Ciera McKissick is an independent writer, curator, filmmaker, cultural producer, and the founder of AMFM. She is also the coordinator of Public Programs at the Hyde Park Art Center, and Communications Associate at Ox-Bow School of Art. She created AMFM, originally a web magazine, as an independent study project in 2009 at the University of Wisconsin-Madison where she studied Journalism and Mass Communications. Her work since then often involves collaboration through supporting Black and brown artists, local arts organizations, and seeks to stimulate community engagement that's driven by inclusivity, accessibility, intention, and care. Projects and events have been featured in The Chicago Tribune, Chicago Reader, The Chicago Sun Times, Southside Weekly, Afropunk, and DapperQ, The Milwaukee Business Journal, and Milwaukee Neighborhood News.

DJ SKOLi aka Ryan Roberts is a DJ/Producer whose sound has been described as an unorthodox culmination of frequencies and gritty representation of the perseverance and heart that is the Chicago community. A Hyde Park native, SKOLi has produced and curated experiential events throughout the city.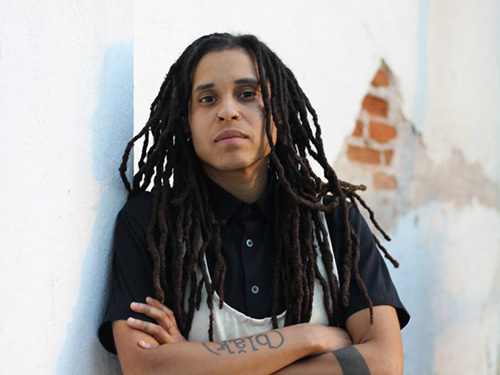 Artist Statement
"Last summer I planning a road trip to the Smoky Mountains in Tennessee for my birthday in June. It happened to be just after the uprisings that happened after George Floyd was killed, so racial tensions were very high, and I found myself heading to the South during a precarious time –I was nervous to go and considered cancelling the trip. I did research on the area, and even read some articles, one notable one that has stuck with me was a piece the New York Times had just published titled, 2020 Is the Summer of the Road Trip. Unless You're Black. I had also learned about many of the past restrictions that Black people had when it came to camp sites and national parks. Growing up in Wisconsin and being introduced to spending time in nature, and being a natural explorer myself, the majesty of the mountains managed to outweigh any fears I had. My partner and I took to the road for the Smokies and it reminded me of times I've travelled cross country with family as a kid with the car stocked with snacks, entertainment, and bedding, and I thought about the stops we took along the way. I've always enjoyed going on road trips, sometimes solo even, and the music and memories are what stand out, and that is the feeling that I wanted to embody in this episode and personify Black travel through the road itself." – Ciera McKissick
More Spinning Home Movies Episodes: