Episode 9: "Ode to Inner Space" by Jamila Woods
Premiered July 2, 2020

Spinning Home Movies is back for a special two-part Summer Jam Edition, starting with Jamila Woods on Thursday, July 2nd! Tune into Facebook Live with Arts + Public Life to experience "an ode to inner space," a 30-minute set of vintage home movie footage from the South Side Home Movie Project digital archives, curated and sound-tracked by Chicago's own singer, songwriter and poet Jamila Woods. Presented with support from the Center for the Study of Race, Politics and Culture (CSRPC).
watch the premiere
Watch the premiere to see Jamila's interview with Jacqueline Stewart, reactions from the audience, and the post-show Rewind with the artist, home movie donors, and SSHMP team.
watch the live stream pt. 1
watch the live stream pt. 2
ABOUT THE ARTIST
Jamila Woods
Jamila Woods is a Chicago poet, singer-songwriter, and educator. A Pushcart Prize winner and recipient of the 2015 Ruth Lilly and Dorothy Sargent Rosenberg Poetry Fellowship, her poetry has been published by Poetry Foundation, Haymarket Books and Third World Press. She currently works as Associate Artistic Director of Young Chicago Authors, where she teaches poetry to Chicago youth and helps organize Louder Than A Bomb, the largest youth poetry festival in the world. As a singer-songwriter, she has collaborated with Chance The Rapper and Macklemore, and toured supporting Corinne Bailey Rae. She also served as music consultant for the Emmy-nominated web series Brown Girls. Her critically acclaimed debut album HEAVN was re-released via JagJaguwar Records and Closed Sessions in 2017.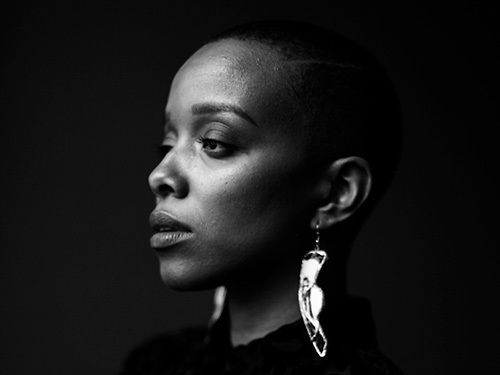 Artist Statement
"In these archival family videos, the act of recording is an act of love. To press record is to say, 'I want to remember you, I wish you to be remembered.' I was captivated by the idea of Black folks seeing each other through the camera, framing each other. The way these moving portraits make us wonder about the subject's inner thoughts, feelings, wishes, dreams & invite us to recall our own. Paired with songs that put me in an emotional & reflective space, this collection of sounds & images is a spell to celebrate & protect Black interiority." – Jamila Woods
More Spinning Home Movies Episodes: